28 Feb 2022

Cabot cheerleaders win national championship

By Becky Bell

That is the message the Cabot High School cheerleading squad sent when they recently traveled to Dallas to compete in their first National Cheerleading Association (NCA) Championship.

And compete they did! The Cabot High School cheerleaders won the 2022 Game Day Co-Ed Large Varsity National Championship.

The squad is coached by Ashley Cooper and Kristen Sumler. The pair have been coaching for four years, and they are excited their team won the NCA title.

"We just set our minds on a goal," Cooper said. "We knew we couldn't do it by ourselves, but we told them they could be champions, and they believed it, and for some reason it worked."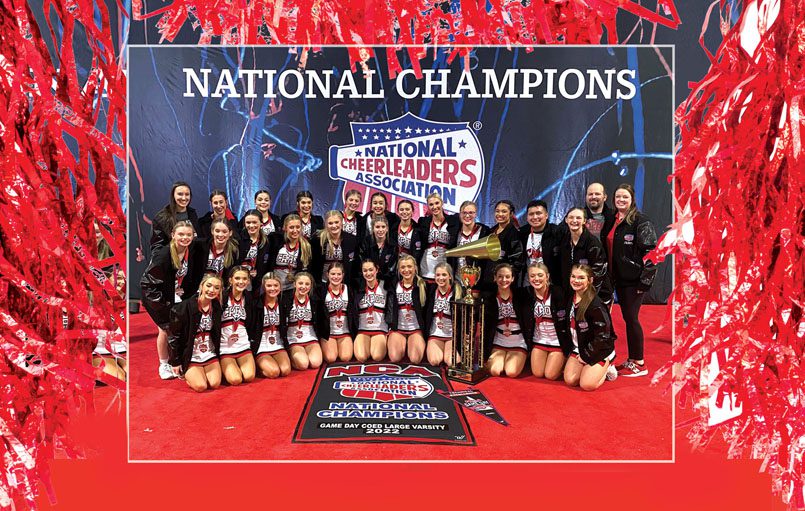 Growing up, both Cooper and Sumler were junior high and high school cheerleaders. Sumler also brings her college-level cheer experience, from Arkansas State University, to coaching the team.
There were ten teams to contend with in Dallas. Competition was fierce, but the nearly 30-strong Cabot team worked together to win first place.
"They can't work by themselves. They have to work as a team," Cooper said. "There are 100 props to carry with them counting every pom, every sign, every flag. They have to learn they might not be best friends, and they probably aren't best friends, but when they are out there, they have to be a team. They have to learn how to work together. Everyone has a job. Do your job is what we say a lot."
The NCA Championship was not the first win for the Cabot Highschool team. In 2020, they were the Arkansas Activities Association (AAA) champions, and in 2021 they were runners-up.
According to Cooper, Arkansas cheerleading is becoming a force to contend with. This year the National High School Cheerleading Championship competitions were held in Dallas and Orlando and people are seeing the capabilities of Arkansas cheerleaders.
"This is not just about Cabot. I think Arkansas is known for a lot, and people have realized on a national level that Arkansas is coming in with full force," she said. "Those who are competing in Orlando right now are showing everybody what Arkansas has to offer."
While there are 28 members of the Cabot cheerleading competition team, not all the cheerleaders are girls. Aaron Pena is a junior who helps the girls with stunting. He backspots for the cheerleaders, and you can find him placed in many positions while stunting, except flying in the air. "He is just an overall great addition to the team," Cooper said. "He's a very brave male cheerleader. You know he is pretty resilient. I think he takes a lot of pride in the girls, and he takes care of them, and they all love him. He's very motivational."
The team hosts tryouts in March, and they are looking forward to next year's competitions. Winning the NCA Championship did not happen overnight. It is something the team has been working hard toward.
"It was years in the making," Cooper said. "A lot of people don't understand cheerleading and think it's more just on the sidelines. We practice a lot for this sport." And their persistence and practice paid off.