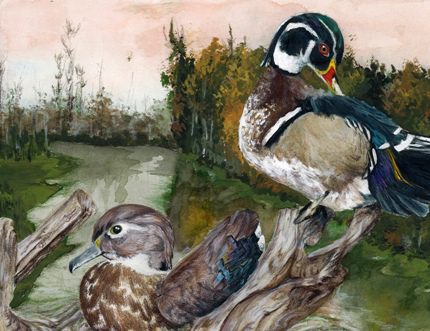 26 Apr 2017

Cabot artists dominate duck stamp competition

Three Cabot artists recently claimed the top spots in this year's state-level Federal Junior Duck Stamp Conservation Program art contest at the Witt Stephens Junior Central Arkansas Nature Center in Downtown Little Rock.


Andrea LaFave of Cabot High School claimed the best of show with her portrayal of a pair of wood ducks in a flooded forest. Second place in the overall competition went to Landon Patterson of Cabot Freshman Academy for his image of mallards over flooded fields. Auston Melton of Cabot Junior High North earned third place overall for his composition of a pintail on the water.


Judges included waterfowl and wetland program biologists from the Arkansas Game and Fish Commission, graphic artists from the AGFC's award-winning magazine, Arkansas Wildlife, and education coordinators from the AGFC.


More than 2,000 entries from across the state were entered into this year's competition, from students in kindergarten, all the way to high school seniors. Entries are separated by grade level – kindergarten-third grade, fourth-sixth grade, seventh-ninth grade and 10th-12th grade. Winners are selected for each division, then all first-place entries are compared and a "best of show" is selected, regardless of grade level.


LaFave's best of show entry will represent Arkansas in the Federal Duck Stamp Design Contest, where it will be judged against the best of show winners from all 50 states, Washington, D.C., and several U.S. territories. The winning design from the national contest is used to create the Junior Duck Stamp for the following year.

Junior Duck Stamps are sold by the U.S. Postal Service and Amplex Corporation consignees for $5 per stamp. Proceeds from the sale of Junior Duck Stamp support conservation education, and provide scholarships for the national winners, and awards for students, teachers and schools that participate in the program.


Thanks to AGFC conservation license plate sales, the top three artists in Arkansas also receive scholarships. LaFave will receive a $1,000 scholarship, Patterson will earn a $500 scholarship for second overall, and Melton will get a $250 scholarship for third.


Visit agfc.com/education/Pages/EducationProgramsFJDSAC.aspx for more information about the Federal Junior Duck Stamp Program.