28 Feb 2022

Business majors meet major business

By Lori Dunn

At Central Baptist College (CBC), Dr. Kateryna Pitchford is teaching her students marketing and business skills in a real-world environment. Her classes are gaining applicable skills they never would have acquired through traditional textbook learning.

"I like to learn myself and stay current," Pitchford said. "Things change quickly, and textbooks become outdated fast. I like to keep my students up-to-date."

Pitchford, an Associate Professor of Business at CBC, sees teaching as giving back to her adopted country and state, while also preparing her students for the workforce the best she can.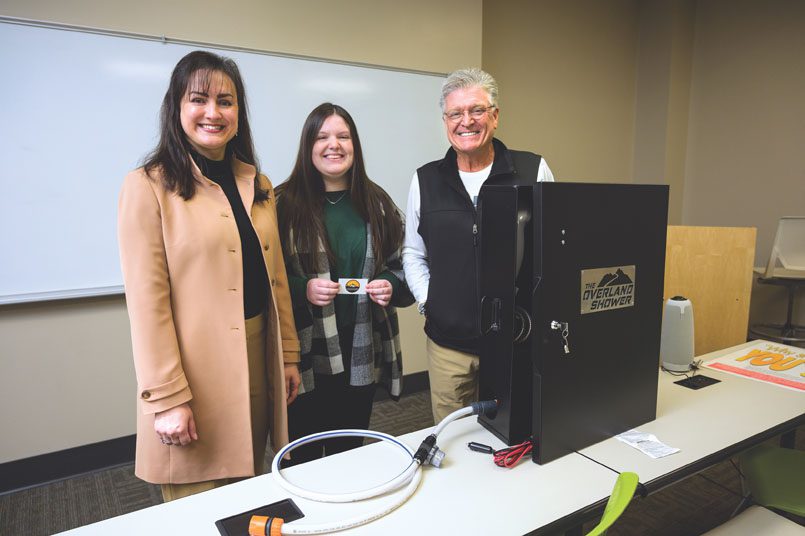 Pitchford was born and raised in Dnipropetrovsk, Ukraine. She moved to the U.S. in 2004, and lived in Heber Springs. She now resides in Conway.
"I have had so many opportunities here in my new home, and I want to be able to give back," she said. "I am always looking for opportunities to stay current and share the latest information with my students. I want my students to be ready to launch."
Since 2015, Pitchford has been an Associate Professor of Business at CBC. She teaches International Business, Business Communications, Principles of Marketing, Entrepreneurship, Leadership, Organizational Behavior, and other courses related to management and marketing disciplines. She also serves as president of the Arkansas College Teachers of Economics and Business.
One of Pitchford's frequent teaching methods is to connect theory with practice; she has invited numerous community and business leaders into her classroom. CEOs, presidents, and other leaders of top industries and corporations have spoken to her students. One example is Bret Carrol, CEO of Conway Corp, who was a guest speaker.
In her upper-level marketing classes, in particular, she forms partnerships with businesses to give students tangible business experience.
"Being from Ukraine, when I moved to Heber Springs, I didn't know a lot of people, so I joined Rotary," she said. "I established a lot of really good connections, and I would start bringing successful business people into the classroom to share their stories with my students."
When business leaders discuss projects, it helps students gain business, marketing, and entrepreneurial experiences on topics like new project launches, social media marketing campaigns, and business expansions.
"I wanted to give students different ways of learning through stories and actual experiences. I can talk about the organizational culture of a company, but if I can provide the CEO of the city's utility company, he can tell how the company develops their mission and core values, and the students remember that better," Pitchford explained.
"It's just good to put a face to a name, and help their networking experience," she said. The majority of students do not have connections starting out, and they can use the connections made in the classroom for future internships.
Besides Conway Corp., other companies that have collaborated with Pitchford include: Dave Creek Media, Adventure Trail RV Inc., Safety before Skill Co., the Emerge Surfacescapes, and Conway Ace Hardware Store.
"The speakers bring business cards and make personal contact. Then when students need an internship, they can follow up and let that person know they are looking," she said.
Since CBC is a smaller school, there are usually 12 to 15 students in an upper-level class, which allows more personal connections to be made.
In the spring of 2021, Pitchford served as a faculty advisor for CBC's Christ Light team at the Arkansas Governor's Cup Collegiate Business Plan Competition. The team included two accounting majors, Daniel Hopp and Colton Ryan, and they placed second in the small business division. They won a $10,000 award.
"I was honored to be their faculty advisor," Pitchford said.
A recent project for her Principles of Marketing class includes a social media marketing campaign in partnership with the company, Adventure Trail RV, Inc. The campaign is for the launch of a new product called "The Overland Shower."
"Tom Brewley with Adventure Trail RV invented a type of shower and patented it," Pitchford said.
This semester, the marketing class will be divided into four teams with the goal of developing a social media marketing campaign for the shower.
"We will run the ads and see how they do, based on feedback and data," Pitchford said.
Last fall, the class was divided into teams to create a company logo for Adventure Trail RV and introduce a new product to the market through a social media marketing campaign. The winning team received cash prizes.
Pitchford, herself, has an impressive resumé. She completed her PHD in Leadership Studies from the University of Central Arkansas in 2015. She received a Master's Degree in Business Administration from Harding University, and her Bachelor's of Business Administration and Labor Economics from Dnipropetrovsk National University in Ukraine.
She is also an active member of her community, serving in the Conway Noon Rotary Club, and is chair of the Jeff Farris Leadership Academy.
She keeps in touch with many former students, and has seen a number of them receive job offers from connections they made in her class, and then she sees them thrive in those careers.
One former student told Pitchford something that made her extremely proud and confident that she is on the right track with her curriculum.
"He told me that every day he uses something that I taught him, and that motivates me to keep going," she said.