30 Jun 2021

Building demolition offers first responders training mecca

By Stefanie Brazile

When First Community Bank-Conway announced plans to tear down some old structures to build a full-service banking center earlier this year, a skilled first responder jumped into action.  

"When we saw the video about how First Community was going to tear a building down in Conway, I went to Ms. Lori [Melton] and told her I thought it would be a great training opportunity for our task force and firefighters," said Bill Keithley, assistant chief of the Conway Fire Department and coordinator for the Central Arkansas Urban Search & Rescue Task Force Teams 1 and 2. "They said we could use it as long as we needed."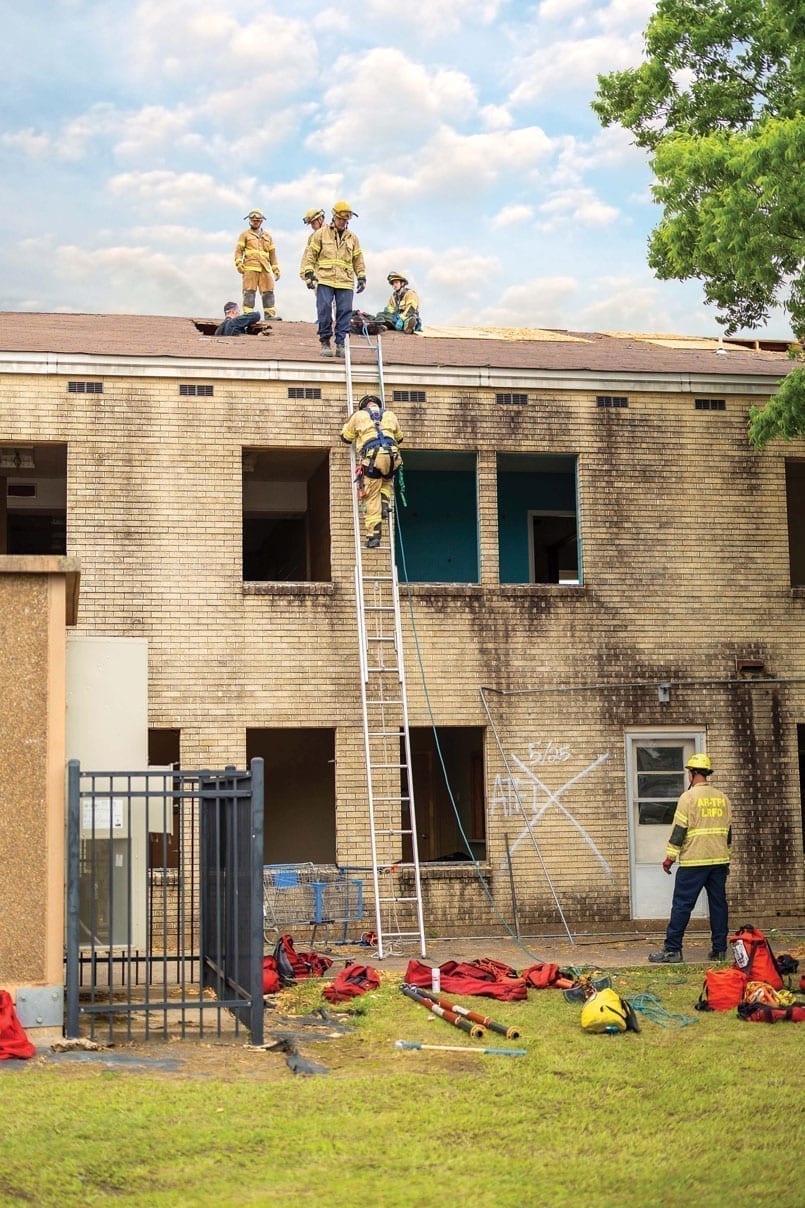 Melton is the senior vice president of business development for the bank, which opened in Conway last year. "There are five buildings and when they asked if they could do some training, we said, 'Yes!' And then we contacted the police department to see if they wanted to use the structures, too."
The week of May 24, Task Force firefighters and emergency medical services (EMS) staff converged on the corner of Harkrider and Polk near downtown Conway, for mock training drills. Ambulances and firetrucks surrounded the former home of Second Baptist Church.
Those who came for training are firefighters and EMS workers from Benton, Bryant, Conway, Little Rock, North Little Rock, Jonesboro, Jacksonville, and the Pulaski County Office of Emergency Services.
"Here at the fire department, we're always trying to find buildings we can train in when [they're] not on fire," Keithley said. "Normally, we have to be mindful not to damage a structure, but we know they're going to tear it down, which gave us a chance to do whatever we needed to do."
Instead of just jackhammering a concrete slab or tearing through a wooden wall, the church sanctuary offered the chance to do some high angling rope exercises. "It's hard to find somewhere that you can hit almost every aspect of your team's capabilities," the experienced first responder said. "The amount of different buildings and construction that we had — like wood, frame, and brick structures built in the '70s, to something built in the '90s — gave the squad a view of anything they could encounter in the city."
Because there were so many buildings, 30 people were there daily for three days and all of them were able to get hands-on training. Victim rescues were practiced with mannequins. First Community provided water and fed them lunch one day. 
"We are thrilled to offer our facilities to the fireman and police staff for training," said Grant Gordy, community president of First Community-Conway. "We realized this was an unprecedented opportunity for them to hone their skills in five different buildings and 88,000 square feet. It has been interesting to watch as we have seen how dangerous their jobs really are. We truly thank them for all they do, and are prepared to do, to ensure our safety."
Asbestos abatement was done by the bank before the mock drills began.
"We want to thank First Community for letting us use the facility before they tear it down," Keithley said. "We had a group from Jonesboro here and down to Benton. When you think about it, it benefits not only our community but has been a statewide benefit."