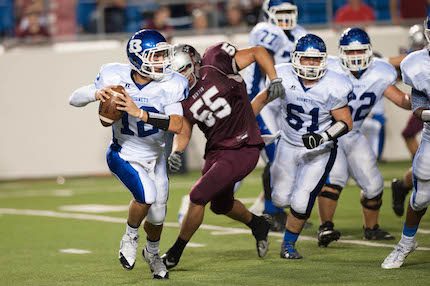 12 Aug

Bryant: New conference, new look for Hornets in 7A/6A Central

Conference: 7A/6A Central
Coach: Paul Calley
'13 Record: 7-4 (6-1)

Bryant captured its third 7A/6A South title in four years in 2013 and joins the likes of Conway, Greenwood and Little Rock Catholic in the 7A/6A Central this year. For Coach Paul Calley and the Hornets, being successful in the new conference will take hard work.

"Our ability to run the ball consistently will be vital to our success," Calley said. "We must rely on our speed and quickness to force bad plays and turnovers. Developing depth on both sides is a top priority."


All-state running back and receiver Brushawn Hunter is an offensive game changer. The senior combined for more than 1,200 yards rushing and receiving and 16 touchdowns last year. Hunter was named to this year's 501 Football Team.
"Brushawn's speed and athleticism make him a tremendous weapon for us, and he'll set the tone for us on offense," Calley said. "He is proud to be a Hornet and has many friends outside of the football family. He has always been a great ambassador for our school."

Hunter is joined in the backfield by senior Kylon Boyle and junior fullback Drew Alpe. Boyle scored five touchdowns last year, while Alpe added two.
The Hornets' defense has also improved, bringing back five starters. Junior Cameron Murray emerged as a playmaker last year on the line. Seniors Ryan Hall, Drew Allen and Hunter Fugitt also man the line. Junior Devon Alpe impressed at linebacker in the spring, and senior Brendan Young converts to safety after playing running back last year.