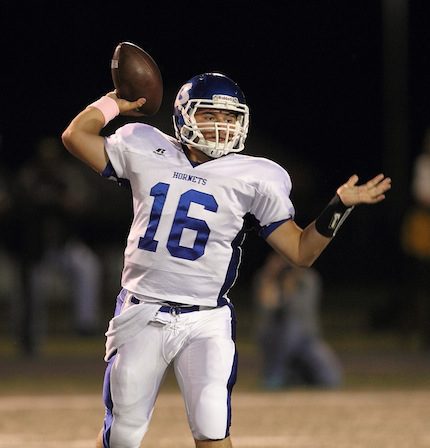 12 Aug

BRYANT: Hornets 'exciting to watch' in 2012

Classification: 7A/6A South
Coach: Paul Calley
Last Season: 8-3 (6-1)


The Bryant Hornets fell to Fort Smith Northside in week two, 45-40. The Hornets then reeled off six straight wins after that loss and raced to an 8-2 regular season record and a share of the 7A/6A Central.
The Hornets met Northside again in the first round of the playoff where unfortunately the results were the same.

Senior Hayden Lessenberry (5-11, 200) returns at quarterback for the Hornets. Lessenberry passed for more than 2,000 yards and 14 touchdowns last fall.
Bryant boasts a dynamic duo in the form of senior twins Aaron and Jalen Bell — both are members of this year's 501 Football Team. Jalen is a running back, and Aaron is a cornerback. The two face each other daily in practice.

"I have seen them compete just as hard against one another as they do our competition," Calley said. "They are classy young men that do their talking on the field with their style of play."
Jalen rushed for more than 500 yards and six touchdowns last fall; Aaron recorded more than 40 tackles, seven pass break-ups and tied the team lead in interceptions. Aaron was also a "dangerous" return man, averaging 26 yards per return on kickoffs.
Senior Tim Kelly (6-2, 210) returns at defensive end, and senior Tyree Reese (5-11, 230) returns at linebacker. The two are expected to be potential all-state players for the Bryant defense.

"Heading into a new conference is refreshing, but we do not expect a decline in competition," Calley said. "We should be exciting to watch."
501 Football Team 2012 –
Aaron Bell & Jalen Bell
Classification: Seniors

Position: CB/WR | RB

On the field: Aaron's best qualities are his speed, fluidness and ball skills. He can cover a lot of ground and catch anything that gets close to him. Jalen's best qualities are his strength, vision and explosiveness.

Off the field: Both Jalen and Aaron are exceptional students, and they exhibit an impeccable amount of character.
Community work: Aaron is constantly asking me what the team can do to give back to the community. When presented with the opportunity, both young men are always the first to volunteer. So far this year, they have helped with Special Olympics and the Saline Memorial Hospital 5K.They read to Bryant Elementary students during Read Across America Week and organized a group of players to assist with Hurricane Elementary's Parent Night. They are volunteer mentors at the Bryant Boys and Girls Club.
Sportsmanship: They are always there to help their teammates, no matter what the other player's grade or talent level might be. I feel that our team is more of a family because of Aaron and Jalen.
Expectations: Both have been major contributors since their sophomore year. They have sacrificed individual glory to make our team better.
Other: They are a joy to coach and great teammates. Our staff and their teammates feel truly blessed to have a DOUBLE DOSE of these two exceptional young men!