12 Jan 2022

Brown pushing young defending champs to more greatness

By Levi Gilbert

Karley Brown is the lone returning senior for the defending champion Mayflower Eagles, and she's helping get the squad positioned for another post-season run.

"Karley played a huge role in our state championship run last year," said Mayflower Head Coach Coty Storms. "She did all the dirty work for us. We probably don't win it without her on that team."

For Brown, winning a ring was an experience like no other.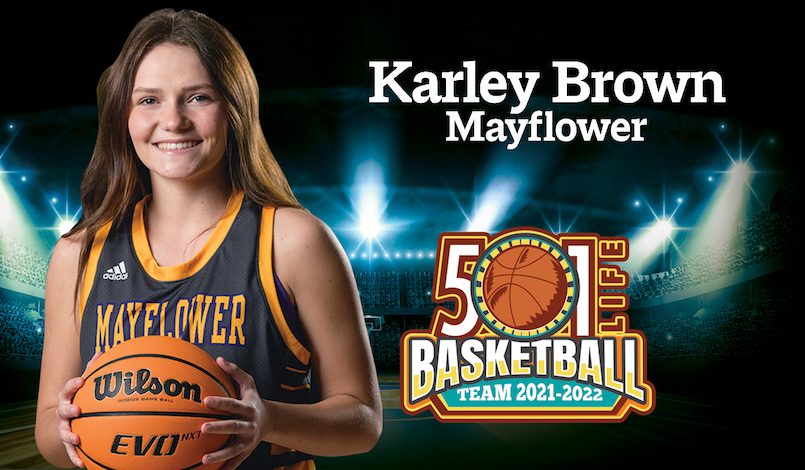 "I got to do it with some of my best friends, which made it even better," Brown said. "My favorite thing about basketball is the friendships and memories you make that will last a lifetime. I've met my best friends in the world through basketball at Mayflower."
Brown isn't resting on her past successes and is putting in the work for an underclassmen laden Eagles squad.
"I want to help the younger girls on the team to get more comfortable on the court," Brown said. "I am the only one on the team that will not be coming back next year, so I hope to put the team for next year in the best position possible."
Brown was selected to this year's 501 Basketball Team — 40 players representing the best the 501 has to offer both on and off the court. The team is sponsored by Moix Equipment and Toy Company, Conway Regional Health System, First Security Bank and Velda Luders of Coldwell Banker RPM Group. The senior was nominated by Storms.
"She's a big time leader for our team," Storms said. "She does whatever it takes to win. She took 17 charges last year. She is willing to dive on the floor and save possessions. She has one gear, and it's 100%. The ball always finds her. She is our rock that holds it all together. She will do all the things that nobody wants to do, but what it takes to win.
"She's also a great student in the classroom and even a better kid. I don't think she has ever had below a 95% in any class. She has a great personality that kids enjoy to be around."
Brown also plays volleyball and golf for Mayflower, and she plans to continue playing golf in college. Outside of athletics, Brown is a member of Beta Club, National Honors Society, Student Council (class president) and Future Business Leaders of America.
"After high school, I plan to attend either Henderson State University or Arkansas State University and play golf," Brown said. "I am going to get my Bachelor of Science in Nursing, then continue my education to become a Neonatal Nurse Practitioner."
Mayflower (8-4, 3-1) plays host to Atkins in 3A-5 conference play at 6 p.m. Friday, Jan. 14.

Latest posts by Levi GIlbert
(see all)