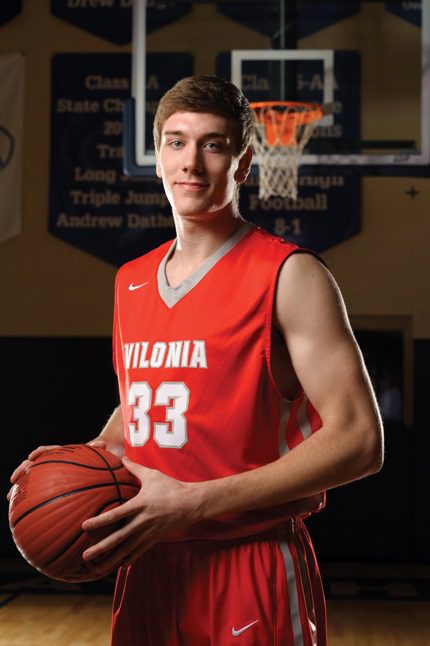 18 Feb

Brown, Eagles eye 5A West title

by Mark Oliver


For many high school basketball teams in Central Arkansas, with the end of February comes the hopes of advancing to the state tournament. For Garrett Brown and the Vilonia Eagles, not only is it crunch time, but it's exactly the kind of excitement that the community needs from its hometown team.

"We've made great strides since [last year's tornado]," Brown said. "A lot of people thought it would affect the community in a negative manner — and it did, physically — but emotionally, the tragedy brought us closer together as a family. We've all come a long way. It's our goal as a team to do something special this season to give back to our community."


Brown was selected to this year's 501 Basketball Team, which boasts the best the 501 has to offer both on and off the court. Brown was nominated by Vilonia's head coach, Tim Goers.


"Garrett leads by example and works well with others," Goers said. "His size is his strength, and he's tough around the basket. Anytime he suits up, I expect him to play big all over the court."


Brown attributes his character and his play on the court to his professional role models.


"I got my start in basketball by simply watching the game," Brown said. "NBA, college — you see these guys with incredible talent and you strive to be like them — guys like Kevin Durant and Stephen Curry. You want to play just like them, so you build your mind up and say, 'I really want to be like that.'"


With few games remaining on its schedule, Vilonia finds itself in the hunt for the 5A West title. For the humble Brown, it would be a dream to make a deep playoff run during his senior season.


"I just want to be the best player I can be for my team and my coach," Brown said. "I want to help us win as many games as possible and maybe even win a state championship."


Following its 67-66 victory over Greenbrier this week, Vilonia is primed for Friday's showdown with Morrilton, which appears to be the final obstacle in the team's quest for the 5A West crown. For Brown, the key to winning big games is team unity.


"Our team's goal is chemistry," Brown said. "Our foundation has always been that if we are good teammates with good chemistry, we will succeed on the court. I believe we have good team chemistry, so I believe we can make it as far as we want to."


Win or lose, Brown attributes all of the Eagles' successes this season to his teammates.


"We're all very close on the team," Brown said. "Coach is trying to get us all to bond together. Some of our biggest key players are Lucas Nicholson, Charlie Thomas and Matt Stanley. They're all very athletic and good friends of mine. Having that connection really helps on the court."


Off the court, Brown is vice president of Vilonia's senior class and is involved with Beta Club and student council and is a member of the youth group at Liberty Church of Christ in Conway. He approaches academics and athletics with equal focus.


"I want to go to college and go on to graduate school to become an optometrist," Brown said. "I hope to go to UCA or Harding — either would be great fits for me."


Vilonia plays host to Morrilton Friday.