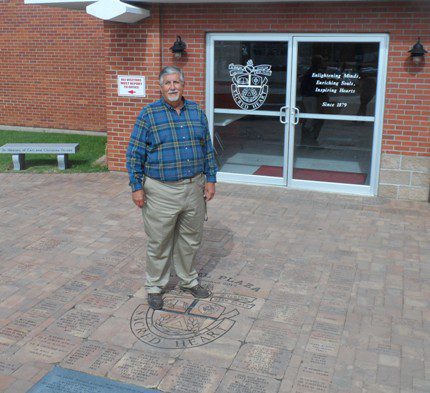 27 Oct 2014

Brian Bailey to retire after 45 years in education

Posted at 12:23 PMh

in

News

Brian Bailey, principal of Sacred Heart Catholic School in Morrilton, has announced his retirement, effective at the end of the 2014-2015 school year.

Bailey has served as principal for SHCS since 2002. This year's senior class was in kindergarten when he first joined the school.


Prior to joining Sacred Heart, Bailey worked for the South Conway County School District as a coach, assistant principal, principal and assistant superintendent. He also worked in the Clarksville, Clinton and Fayetteville school districts. He holds a bachelor's degree in physical education and a master's degree in school leadership.


During his tenure, Bailey has left his legacy at Sacred Heart in the following areas:
• Strategic planning – Bailey was instrumental in leading the school through a strategic planning process that included members of the faculty and staff, parents and board members. This plan has been critical in guiding the work that has been done to improve the campus, increase student access to technology and make Catholic education accessible for all interested families.
• Financial solvency and steady enrollment. During his time at Sacred Heart, Bailey successfully led the school to a high point of 270 enrolled students. He also helped the school weather tough economic times in recent years and has spearheaded the implementation of a tuition assistance program, strategic school marketing and the renovation of school buildings – all of which contribute to steady growth in enrollment.
• Above-average academics – Under Bailey's leadership, the student ACT average has reached record highs. Students continue to score above both state and national averages, with the 2014 class average score being 24 (state average was 20.4 and national was 21.0). In 2009, Colton Kordsmeier was named as the school's first National Merit Scholar.
• Major renovations to the campus – Since 2010, more than $400,000 in donor dollars has been spent to: renovate the high school laboratory, elementary and high school buildings (exterior walls); renovate the bathrooms in both the high school and elementary; improve the entrance to the gym/auditorium with the addition of a new lobby, the Rebel Plaza and Walk of Patrons, and a new concrete drive; and renovate a storage building to accommodate a new pre-school and playground. With the exception of the concrete drive and pre-school building, all projects were 100 percent donor-funded.
• The addition of a 3- and 4-year-old pre-school program. For many years, the idea of a pre-school was discussed among school leaders. The addition of pre-school seemed a natural extension to the K-12 program and would also fill a need in the local community for more pre-school options. After extensive renovations to the former Youth Hall building, Sacred Heart welcomed its first pre-school classes in 2012. The pre-school continues to operate at full-capacity.
• The creation of a fund development program. School board members had long discussed the need to create a staff position to lead professional fund development. The goal of the position was to increase donor funds through strategic development efforts. After consulting with an alumnus with extensive professional development background, Bailey and the school board took a leap of faith and hired the school's first director of development in 2009. Sacred Heart was the 10th school (at that time) to hire for such a position. Over the past five years, the development program has generated nearly $1 million for the school, helping to pay for campus renovations, tuition assistance, teacher recruitment and retention, technology improvements and general operating support. Bailey also serves as an ex-officio member of the Sacred Heart Catholic School Endowment Fund which exceeded $1 million in 2013.
• Continuity in faculty positions – Bailey considers the faculty among the best in the business and credits their commitment with the success of the school. He has managed to hire well-qualified and dedicated teachers who have chosen Sacred Heart because of the Christ-centered curriculum and family-like environment.
• Christ-focused, Catholic education. Bailey has worked to strengthen the school's Catholic traditions while also ensuring that families from all denominations feel welcome. The school's enrollment is typically 20 percent to 25 percent non-Catholic. Under his leadership, students are more engaged in Mass, informed about their faith and encouraged to lead service-oriented lives.
• Athletic achievement – Over the past 10 seasons, the Sacred Heart senior boys basketball program has set numerous school records. During this time period, the Rebels have advanced to the state tournament six times and collected four conference and district championships. The Rebels also captured the first ever regional championship in school history in 2011 and advanced to the state championship game in 2012. The Sacred Heart Lady Rebels are also known for a strong tradition. In 2006 and 2007, the Lady Rebels won back to back state championships. Since this time, the Lady Rebels have made several state tournament appearances. In the 2012-2013 season, the Lady Rebels finished 20-17 overall with a state tournament appearance. In addition to basketball, the school boasts strong baseball, softball and golf teams. The baseball team has played in the state tournament for 12 consecutive years. In golf, the boys team has placed first at the district level for the last five years and placed sixth in state in 2014; the girls team placed second at the district level for the past two years and also finished sixth in state.
• Extra-curricular activities – In 2010, the Sacred Heart Quiz Bowl Team won the state championship title. The program continues to promote academic excellence at SH. In 2013, after a long hiatus, the Sacred Heart theater program was once again available for students. Bailey has always felt strongly that theater was an excellent opportunity for students, especially those who were not interested in athletics. In 2012, Sacred Heart formed a LEGO league team for students ages 9-14. The "Robo Rebels" club teaches students to design, build and program LEGO robots and to compete with other students.


"I was fortunate that all of the stars aligned," said Bailey of his time at Sacred Heart. "I have had a great teaching staff, good coaches, support from our development program, great kids and parents."


Bailey's granddaughter, Abby, graduated from Sacred Heart in 2013 and his grandchildren, Bailey and JT, are currently enrolled. He has been married to Carolyn Bailey for more than 40 years. They are members of Sacred Heart parish.


"In my opinion, Sacred Heart would not be where it is today without the leadership of Brian Bailey," said school board president Norbert Gunderman. "Brian can be found doing everything from cleaning and fixing things around campus, to spending one-on-one time with students who need a little extra help. There aren't many evenings or weekends where he cannot be found on campus doing the extra things that need to be done to ensure our kids
have a top-notch facility for learning. I am going to miss him but I think the kids are going to miss him even more. He cares so much for the students and it is obvious if you watch him interact with them. His retirement is much deserved and I hope he enjoys it as much as we have enjoyed him being at Sacred Heart."


A search committee has begun the work of filling the principal position, under the direction of the pastor, Msgr. Jack Harris. "Having been ordained for over 40 years and associated with schools in most every assignment, I can say this has been, without a doubt, my most enjoyable assignment," said Msgr. Harris.


Sacred Heart Catholic School, a fully-accredited educational community, is dedicated to Catholic Christian values, service, respect for self and others, and academic excellence in order to form a strong foundation that inspires our students to be productive leaders of tomorrow. The school was founded in 1879 and is one of the only two remaining Pre-K – 12th grades schools in Arkansas. More information about the school may be found at sacredheartmorrilton.org.