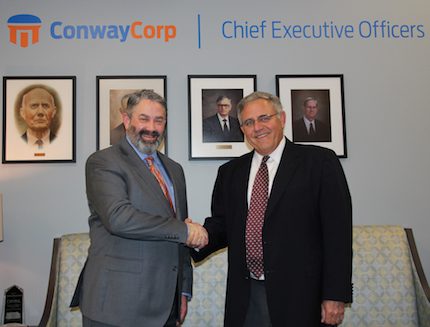 29 Mar

Bret Carroll named Conway Corp CEO

Story and photos
by Sonja J. Keith


The Conway Corp Board of Directors voted unanimously this afternoon to name Bret Carroll as the company's new chief executive officer following a nationwide search.

Carroll, who is chief financial officer at Conway Corp, will replace Richard Arnold, who will retire Wednesday, May 31. Carroll will be the sixth person to lead the organization in its 88-year history.

The board met in executive session for about 40 minutes to discuss the CEO position. Returning to regular session, vice chairman Steve Conner moved to name Carroll to the post, which was seconded by Lindsay Henderson. After the unanimous vote, the action was greeted with applause by the board and employees in attendance.

"Conway Corp and the services they provide are vital to the community," said board chair John Adams. "Richie and his predecessors have provided excellent leadership for Conway Corp and our community over the years. We are confident that Bret will continue that strong leadership tradition."

The board of directors engaged a nationwide executive search firm in October to manage the hiring process after Arnold announced his upcoming retirement.

"The search firm brought us a field of highly qualified candidates," Adams said. "Bret has painted a vision for Conway Corp's continued position as an innovative company deeply invested and providing exceptional service to our community. We are excited to work with Bret as we continue to provide excellent service and enhance the quality of life in our community.

Carroll holds a bachelor's of business administration in accounting and a master's degree in finance from the University of Central Arkansas. He is recognized by the American Public Power Association as a certified public power manager and serves on the board of directors for the Mid-America Cable and Telecommunication Association and as chairman of the Arkansas Municipal Power Association Accounting, Finance and Customer Service group.

In addition to his professional associations, Carroll is active in the Conway community. He serves as president of the United Way of Central Arkansas Board of Directors, as treasurer of the Salvation Armory advisory board and is a member of the Conway Noon Rotary Club and Gideons International. He has previously served on the boards of the Conway Area Chamber of Commerce, Boys and Girls Club, Choosing to Excel and Big Brothers and Big Sisters of Central Arkansas.
"I am honored that the board of directors has named me to the CEO position. I understand the standard of excellence that has been set by those who have held this role previously. Conway Corp has a rich history of impact in our community and I am excited to lead and continue to provide the community with the reliable and innovative services our customers have come to expect," said Carroll.
Carroll will take his position as CEO on Thursday, June 1. He said being named to the position represents a goal that he has worked toward for about 10 years. "It means everything," he said. "It's an answered prayer."
Carroll said he told those who interviewed him that being named CEO wouldn't be just another bullet point on his resume, adding that he hopes that he will never have to update his resume again. "It's a huge responsibility and huge shoes to fill. Richie raised the bar extremely high. I'm honored and humbled at the same time but the trust the board placed in me and what it means to our community. I look forward to serving in this role."
Adams said the nationwide search highlighted "what a great organization we have here." He said the search yielded some outstanding candidates, who were highly complimentary of the organization. He added that the unanimous decision was from the board as well as the consultants.
Following the announcement, the board presented Arnold with a resolution in recognition of his service to Conway Corp. "It's been an honor doing what we do and you've made a great selection in Bret Carroll. I've worked with him for 19 years. I know him well," Arnold said. "He's a man of the highest ethical standards. He will make you very proud too. He's had the opportunity that I kind of had, to grow with the corporation and Conway. I'm excited to see what the future holds. I think it's going to be outstanding."