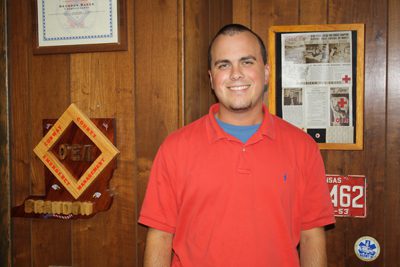 13 Dec

Brandon Baker named chamber president/CEO

by Sonja J. Keith


Brandon Baker will soon begin his dream job as the new president and chief executive officer of the Morrilton Area chamber of Commerce and the Conway County Economic Development Corporation.


"I consider this a great opportunity," Baker said. "I see this as one of my dreams being fulfilled."


A 2005 graduate of Morrilton High School, Baker is a 2008 graduate of Arkansas Tech University in Russellville with a degree in emergency management. He took college-level classes while at Morrilton High School through the school's concurrent enrollment partnership with the University of Arkansas Community College at Morrilton.


"I began my freshman year of college with 30 college hours worth of credit which helped me graduate with my bachelor's degree in three years."


Baker has worked the past four and a half years as director of emergency services for Conway County. He also holds an associate's degree in emergency medicine from UACCM, and works part-time as an emergency medical technician for Med-Tech EMS in Morrilton.


In his new role, Baker said his primary goal will be to promote Morrilton and Conway County throughout the state. He plans to increase the community's visibility to promote tourism while also hoping to attract new residents who discover the affordable living that the area offers. He also hopes to attract more industry and business to the area to provide more jobs.


"I always had the desire to help the Morrilton and Conway County community grow," he said. "I see the potential for growth."


Baker has assisted the Chamber and CCEDC in recent years as a volunteer, serving on the CCEDC marketing committee that developed the "See Further" campaign; and writing successful grants to improve an industrial park and to obtain the "Welcome to Morrilton" sign just south of I-40 between the exits.


"Brandon is a great fit for our organizations," said Becki Griffey, chairperson of the Morrilton Area Chamber of Commerce board. "He's energetic and is greatly skilled at organizing people and getting things done. Plus, he's dedicated to seeing this community grow."


Baker said his new position will allow him to pursue a lifelong dream of working to improve his hometown. "I think people don't know what they miss when they pass by Morrilton," he said. "My goal is for them to stop and stay."


A son of Benny and Pam Baker, the new chamber president/CEO will start his new job on Tuesday, Jan. 3. He is replacing John Gibson, who is retiring.
Baker is also a member of the Conway County 501 LIFE Editorial Board.


"I've had job offers that would have taken me away from Morrilton, but I love this community and want it to grow to its full potential," said Baker. "Working for the chamber gives me the best opportunity to work with our business leaders and government to make it a place where businesses want to locate."