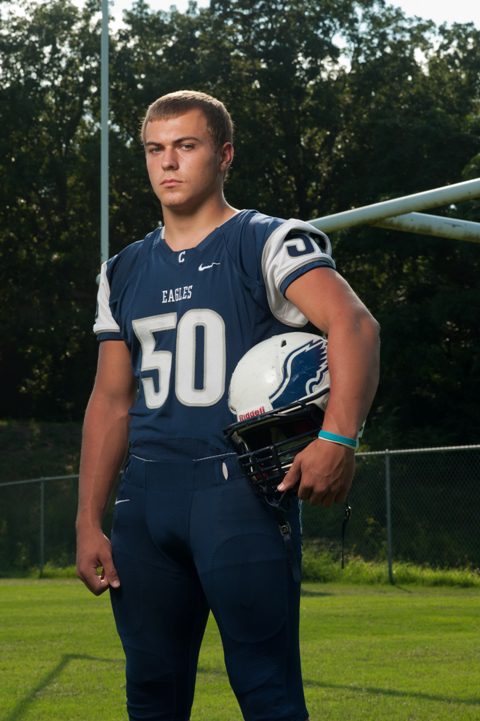 29 Oct 2014

Bowman, Eagles 'rise up' in 2014

by Mark Oliver


The stakes have never been higher for Conway Christian.

Through eight weeks, the Eagles have amassed an impressive 7-1 record, including five straight conference wins. Senior linebacker Noah Bowman attributes the team's success to not just big plays, but to heart.


"Our key to success has been our desire to win," Bowman said. "We're a team that understands what is necessary to be successful. Our record is a testament to that. I think the one thing that has been a huge improvement is our defense. We've stepped up and held good offenses to low scores. Our offense has been explosive. With that combination we've been somewhat unstoppable."


Bowman was selected to this year's 501 Football Team — 24 players representing all 11 counties of the 501. The team boasts the best the 501 has to offer both on and off the field. Bowman was nominated by Conway Christian's head coach, Michael Carter.


"Noah is a great player, but an even better person," Carter said. "He puts others first and is a good role model for our younger athletes to follow. He is a hard-working leader who respects his teammates and his opponents."


With two weeks remaining in 5-2A conference play, the Eagles face their toughest opponent yet in the Magnet Cove Panthers, winners of the past three conference championships. A win over Magnet Cove secures Conway Christian its first conference championship in school history. However, the Eagles have never beaten the Panthers.


"Our team motto this season has been 'rise up,'" Bowman said. "The seniors came together and came up with that motto. It means that, as a brotherhood, we aren't going to give up or quit. We have to be able to rise up and handle whatever our opponent has in store for us."


Despite the challenge, Bowman says that this is the opportunity the Eagles have been looking forward to all season.


"We have never beaten Magnet Cove, and we have never had a conference championship, but we have our best chance to do both this year. It would be a huge accomplishment not only for our players but for our school. It means everything."


Even more at stake — with the conference championship, the Eagles would lock up a first round bye and home-field advantage throughout the Class 2A playoffs.
"Coach Carter always does a great job of keeping us focused," Bowman said. "I'm really excited to see how far we can go this year."

Win or lose, Bowman understands the importance of leaving a lasting impression on the field as his senior season nears its end.

"Although I would like to be a part of a team that wins the conference championship, a bigger goal that I have is to be a great leader on the field and to be an example of good sportsmanship and how to play hard."

Outside of football, Bowman also plays right field for Conway Christian baseball. The senior is also actively involved with Drama Club and Academic Outreach. In his free time, Bowman enjoys hunting, the outdoors and volunteering at Antioch Baptist Church in Conway.

"Noah is involved with mission work through his church and school," Carter said. "He has a heart to help the ones in need."

After high school, Bowman plans to attend college and major in biology and chemistry before pursuing medical school.

Conway Christian plays host to Magnet Cove at 7 p.m. tomorrow.