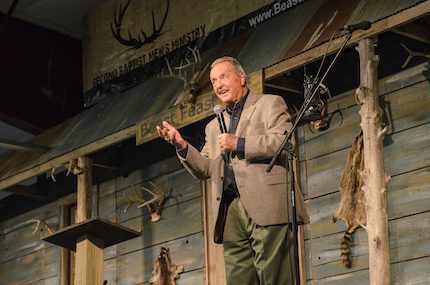 05 Feb

Bowden speaks football, faith at Beast Feast

by Hunter Brooks


Legendary football coach Bobby Bowden spoke at the 13th annual Beast Feast on Feb. 1 in Conway.


Beast Feast, a sportsman banquet that started in 2002, saw more than 2,600 boys and men of all ages fill the Conway Expo Center and Fairgrounds. It is hosted by the Second Baptist Men's Ministry of Conway.

The all-day event, which centered on hunting and religion, treated attendees to a hunting expo, dinner and door prizes. The event also included a food drive where attendees could bring non-perishable food items to be entered in door prize-drawings. More than 300 cases of food were collected.


Central Arkansas band Preservation Theory provided musical entertainment.


"I do this all the time now that I'm retired from football," Bowden said. "I speak anywhere from two to three times a week all over the country. This event (Beast Feast) is such a great idea. It's getting pretty popular to invite these men in here to these suppers and try to introduce them to sports, athletics and also to Jesus."


Bowden was the head football coach at Florida State University for 34 years before retiring in 2011. He holds the NCAA record for most career wins as a head coach with 377, while leading FSU to two national titles.


"My faith has been a very big part of my life," he said. "I was raised that way. I can't take credit for it. I've always had belief. I've always been a churchgoer. I got baptized when I was around 12. I married a Christian woman and raised six kids and 21 grandchildren.


"I believe I'd rather speak to a group like this (Beast Feast) than any group. I speak at churches, prayer breakfasts and Fellowship of Christian Athletes but something like Beast Feast; they're all here for one reason. They all want to listen."
Bowden said his goal is to keep leading youth toward faith and Fellowship of Christian Athletes, an international non-profit Christian sports ministry, helps do that.

"You have FCA in most programs in college. It's a voluntary thing, but you just hope coaches get involved and lead the boys into it because that's what they need. They're not getting it in the home anymore. The problem in America right now is the breakup of families. Nobody is making these kids go to church to learn the things they need to, so FCA is trying to get these athletes and these coaches to be role models for the next generation."

Bowden also offered his opinion of the new College Football Playoff system that will see a four-team playoff decide the national championship starting next season.

"I'm not all that excited about the new method. In my opinion, the BCS system got it right. They always came up with two teams to play for the title and I always thought they had it right. Who cares about the No. 3 and 4 ranked teams? Can you tell me who was ranked third in the nation five years ago? Now the fifth ranked team is going to get mad. So they didn't solve that part of it. I hope it works but don't be surprised in a couple of years if they go back to the old system."