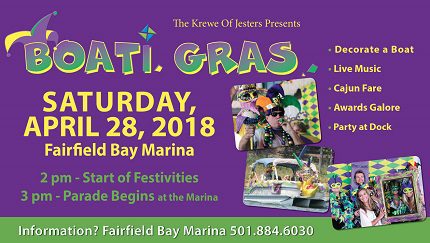 14 Apr

'Boati Gras' planned April 28

The Sixth Annual "Boati Gras" Celebration on Greers Ferry Lake is planned Saturday, April 28.


Take one part Zydeco, a pinch of Creole and a whole mess of fun and laughter, and you'll end up with the best party on the lake. Join Fairfield Bay Marina, Lacey's Marina and the Krewe of Jesters for Boati Gras, an explosion of color and good times on the water.


The water celebration begins at 2 p.m. with the colorful and exciting boat parade kicking off at 3. All sorts of boats from around Greers Ferry Lake will be arriving, decorated in their finest green, gold and purple. The parade will be led around the marina by the FFB tugboat, tossing beads and trinkets to those along the route. The public is welcome to bring their own Krewe, decorate their own boats and participate.


Boati Gras will have authentic Cajun food of beans and rice, music, dancing, awards and a party on the dock.


"Kicking off the summer lake activities with Boati Gras is a no-brainer," said John Conry, Fairfield Bay Marina manager. "We're all one big Krewe here, and this year we're partnering with Lacey's Marina to make this festival the best one yet."


For more information, or to gather your own Krewe and boat, contact the Fairfield Bay Marina at 501.884.6030. It's all good clean fun on the lake, and it's free to participate.