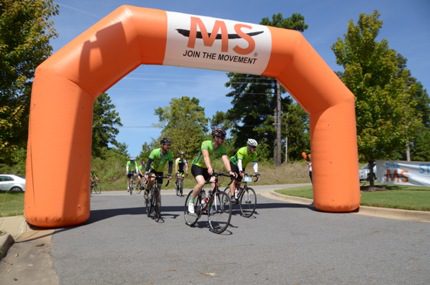 24 Aug 2016

Bike MS: Rock'n Hot Ride Sept. 10-11

More than 250 cyclists, this event's highest registration ever, are expected to raise more than $150,000 to stop MS in its tracks, restore what has been lost and end MS forever at Bike MS: Rock'n Hot Ride.


The event is planned Saturday, Sept. 10, and Sunday, Sept. 11, and features a ride from Little Rock to Hot Springs Village and back.


The two-day journey will take cyclists from North Little Rock through Central Arkansas where they will enjoy some of the most scenic views Arkansas has to offer. After an overnight stay in Hot Springs Village, participants will make a return trip to North Little Rock as they pedal toward a festive finish line to celebrate the nearly 125-mile ride.


Bike MS, hosted by the National Multiple Sclerosis Society, is the premier fundraising cycling series in the U.S. for anyone seeking a personal challenge and a world free of multiple sclerosis. All participants have access to bike mechanics, support vehicles, rest stops every 10 to 12 miles, a finish line celebration and much more.


Attracting nearly 100,000 participants nationwide each year with more than 85 Bike MS rides taking place across the country, anyone anywhere can accept the challenge and fuel progress to help create a world free of MS. The largest fundraising cycling series in the country, Bike MS includes people living with MS, their friends, families and neighbors, as well as corporate teams and individuals who are driven to support critical research and life-changing services to help people with MS live their best lives. People living with MS can also participate in "I Ride with MS," a special program recognizing Bike MS cyclists living with the disease.


Bike MS is sponsored nationally by Premier National Sponsors Primal and Bicycling Magazine as well as Sanofi Genzyme, True Fitness, Kenda Tires, Topeak and Showers Pass.


To register, visit bikeMSarkansas.org, call 855.372.1331 or email [email protected].


Proceeds raised will support cutting-edge MS research and life-changing services for people living with MS so they can live their best lives.