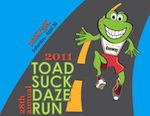 18 Apr 2011

'Biggest Loser' Rick de Roque to start Toad Suck Run

Rick de Roque of Conway – a former contestant in the NBC show "The Biggest Loser" – has been named the honorary chairman of this year's Toad Suck Daze Run.

Runners and walkers of all ages are invited to participate in the 28th annual Toad Suck Daze 5K/10K Run on Saturday, April 30, at Conway High School West at John McConnell Stadium on Prince Street.

Proceeds from the race will benefit a variety of local charities: Boys and Girls Club of Faulkner County, Community Connections, Faulkner County Day School, the Faulkner County Service Center of the American Red Cross of Greater Arkansas, HAVEN (Help for Abuse Victims in Emergency Need) and Junior Auxiliary of Conway.
Over the years, the race has raised more than $244,000 for local charities.
In addition to starting the run, de Roque will be on hand to visit with participants. He also will speak during the awards presentation.
The event, which includes a 10K Run (an Arkansas RRCA Grand Prix Race), 5K Run, 5K Fun Walk and Tadpole Trot runs for kids, represents one of the largest of its kind in the state.
The 10K and 5K runs will start at 8 a.m. The Tadpole Trot starts on the track at about 9:30 a.m. and includes races for children ages 4-12. Kids ages 4-8 will run half a lap, kids ages 9-10 will run one lap and kids ages 11-12 will run two laps (half a mile).
In the Tadpole Trot, the first, second and third place finishers in each race will receive trophies, and all other entrants will receive a ribbon.
The Faulkner County school with the highest percentage of participants (based on enrollment) in the Tadpole Trot will win a traveling trophy and $200 for their physical education department. The 2010 winner was Conway Christian School.
Online registration is available at www.toadsuckrun.com until midnight Thursday, April 28. Participants can also register in person at the Conway High School West Field House at John McConnell Stadium from 4-7 p.m. on Friday, April 29, or from 6:30-7:30 a.m. on the day of the race.
The Toad Suck Daze Run will use chip-timing technology. Participants must wear a race chip to get an official time. Race chips and packet pick-up will only be held 4-7 p.m. Friday, April 30, and on race day 6:30-7:30 a.m. at the Conway High field house. Participants registering after 7:30 a.m. will not receive a timing chip and will not be timed.
Entry fees for the 10K and 5K events are $20 for online registration through April 28 and $25 thereafter. The Tadpole Trot costs $5 without a T-shirt or $8 with a T-shirt.
All entrants in the 10K and 5K events who register will receive a Toad Suck Daze Run T-shirt. Additional shirts can be purchased for $10 on the day of the race after 8 a.m. at the field house or at the Toad Store in Downtown Conway after the day of the race.
Free refreshments will be provided for all entrants.
For more information, contact Kevin Wish, race committee member, at Regions Bank at 501.450.4786 or go online to www.toadsuckrun.com .