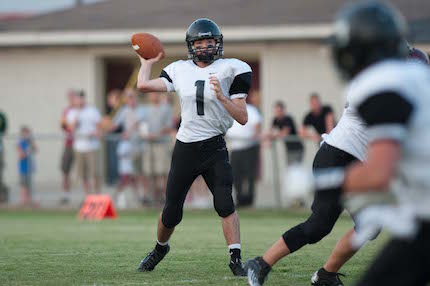 12 Aug 2014

Bigelow: Panthers pose threat in 5-2A

Conference: 5-2A
Coach: Jeff Starks
'13 Record: 4-7 (4-3)

The Bigelow Panthers won the games that mattered in 2013, posting a 4-6 regular season record with all four wins coming in 5-2A play.

The defining win for Bigelow was "beating Cutter Morning Star to get into the playoffs," according to Coach Jeff Starks. Four wins were enough for the Panthers to punch a return ticket to the playoffs.

"We started a lot of sophomores," Starks said. "We were young, did a lot of growing and played our best game in the playoffs against Gurdon."


The Panthers return almost all starters on both sides of the ball — eight on both offense and defense. What was a young squad a year ago is now a seasoned and dangerous team.


Nate Turner returns at quarterback after throwing for 1,500 yards in 2013. Brent Sutherland returns at running back with Keenan Hollins at wingback. Alex Williams and Eduardo Alvarado return at receiver, and Grant Hill starts at tight end. The Panthers also return their entire offensive line intact — right tackle Trey Starks, right guard Tristan Carden, center BJ Akridge, left guard Ke'air Criswell and left tackle Brayden Johnson.


"Offensively we should be very explosive," Starks said. "We have great skill guys."
DaMarcus Grider returns to lead the Panther defense at linebacker after racking up 130 tackles last fall. He'll be joined in the linebacker corps with Ben Osburn, Tanner Shadell and Ben Clark. Kavion Grider clogs the middle at nose guard, and Thomas Huckaby returns on the edge at defensive end. Kelton Jones returns in the defensive secondary.

"Defensively we will be at our best if our defensive line improves," Starks said. "Our conference gets better every year. Look for Magnet Cove and Conway Christian to be tough. The addition of England makes our conference even tougher."