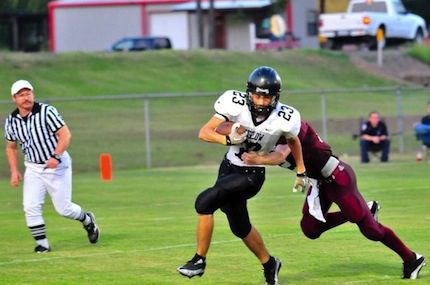 11 Aug 2013

BIGELOW: Panthers competing for 5-2A title

Conference: 5-2A
Coach: Jeff Starks
'12 Record: 9-2 (6-1)


A 9-2 record was another nice season for the Panthers, but everyone in Perry County knows what really made 2012 special for Bigelow.


"We beat Perryville, our county rival, for the first time in about five years," Coach Jeff Starks said.

The Panthers beat nemesis Perryville, 12-6, to open the season and never looked back from there. Their only loss in the regular season came in Week 8 to 5-2A champ Magnet Cove. Bigelow broke
Conway Christian's hearts, 41-38, to close the season and take second place in the conference.


The Panthers played host to Brinkley in the first round of the playoffs, notching a 20-6 victory. Bigelow's season came to an end the next week at Salem, 46-13.


Senior Javier Granillo fills the void left by gradu- ated all-state running back Terrell Dunlap. Adrian Steed could have a breakout senior campaign at receiver. Seniors Austin Morgan and Blake Byrd are the lone returning starters on the offensive line.


Senior Bret Kagebein returns on the defensive line. The "hardnosed, gritty" 501 Football Team honoree earned all-conference honors last fall.


"Bret was the defensive lineman leader in tackles last year and had a dominant performance against Salem in the playoffs until he broke his leg right be- fore halftime," Coach Jeff Starks said. "Bret is a game changer on and off the field."


Bigelow graduated some talented defensive players at linebacker (including 2012 501 Football Team member Jake Hoy), but several juniors are waiting in the wings and ready to shine: Damarcus Grider, B.J. Akridge, Ben Clark, Jarred Treat, Zach Hargrove and Kelton Jones. Granillo earned all-conference honors last year at free safety.


"Our offense needs to be more explosive," Starks said. "Our defense must be more aggressive. We will compete for a conference championship."


Schedule
Sept. 6 at Perryville
Sept. 13 Atkins
Sept. 20 at Danville
Sept. 27 at Quitman
Oct. 4 Mount Ida
Oct. 11 at Mountain Pine
Oct. 18 Poyen
Oct. 25 Magnet Cove
Nov. 1 at Cutter Morning Star
Nov. 7 Conway Christian


501 Football Team 2013 –
Bret Kagebein
Nominated by Coach Jeff Starks
Classification: Senior
Position: OL/DL
On the field: Bret is a tough, hardnosed, gritty player on the field.
Off the field: Polite, soft spoken, smart kid.
Sportsmanship: Bret plays within the rules of the game and takes
no shortcuts. He encourages his teammates to be the best they can be on the field and in the classroom.
Classroom: Bret has a 4.0 GPA and tutors others in math and science. He is active in most clubs and also performs with the band at halftime.
Expectations: We expect a great year from him at the nose position.