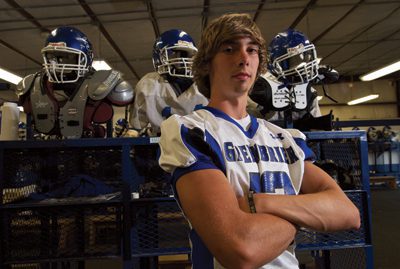 19 Sep 2011

Big time: QB Neal Burcham earns MVP status at national camp

by Donna Lampkin Stephens

Greenbrier quarterback Neal Burcham went from under the radar to one of the country's most heralded high school quarterbacks in July when he was named one of three MVPs of ESPN's Elite 11 competition.

Burcham's triumph at the 24-player quarterback camp at Pepperdine University in Malibu, Calif., was chronicled on ESPN as part of its Year of the Quarterback programming on two Fridays in August.

Burcham had to earn his invitation to the camp with his play at a regional competition in Texas in April, so he wasn't sure what to expect when he arrived in Malibu. But the early feedback from the coaches, including former Super Bowl champion quarterback Trent Dilfer, quickly made him comfortable.

"Going in on Monday, I had no idea of how I matched up with these guys," he said. "But when all the coaches said, 'Hey, you're the real deal; go out and show it,' I just took that and ran with it. I knew what to expect, so I just went out and did what I can do."

Burcham (6-2, 193) was among the youngest-looking players, but he got perhaps the most praise among the group from Dilfer on Thursday night of the Monday-Friday competition, as aired on ESPN.

"He's really good, but nobody else thinks he is," Dilfer said, referring to Burcham's only scholarship offers from Arkansas State and the University of Central Arkansas.

He told Burcham he compared favorably with current NFL quarterbacks, including Aaron Rogers, who led the Green Bay Packers to the Super Bowl championship in February, when Dilfer worked with Rogers as a young QB.

When Dilfer asked who taught him to throw, Burcham said he was pretty well self-taught.

"That's scary," Dilfer said.
Pondering his lack of scholarship offers – among the 24 QBs were commitments to Brigham Young, Purdue, Texas, Miami, Colorado, Wisconsin, Clemson, California, Washington, TCU, Michigan State, Boise State, Auburn, North Carolina, Oregon, Iowa State, Kentucky and Utah – Dilfer asked Burcham:
"Did you do something? There's no demons, no baggage?"
When Burcham said no, Dilfer said, "They just see some skinny kid. But you're a vicious competitor. You've got that steely-eyed look; I saw it.
"Everybody in your region is stupid if they haven't been banging down your door begging you to come to their school."
Burcham said recently that conversation was the first time he realized he had a legitimate shot to win the competition.
"He told me straight up, you and two other guys are my pick to win this thing," Burcham said. "So that gave me the confidence to go out on Friday and just play because I knew Trent was behind me."
During Friday's final two-minute offense in 7-on-7 play, Dilfer told the players he was looking for the best competitor. The final quarterback up, Burcham faced fourth-and-10 on the 35 and threw the final pass of the camp for a touchdown. His cheering fellow competitors carried him off the field.
Afterward, coaches huddled and chose the Elite 11 from the week's work of all 24. Burcham had ranked high each day earlier in the week after entering as the no-name. But he emerged as one of three MVPs – along with Tanner Mangum of Eagle, Idaho, and Jameis Winston of Hueytown, Ala.
Besides being named a MVP, the bonding experience with the other 23 players was the best part of the week, Burcham said.
"The camaraderie was amazing," he said. "I haven't been so comfortable with a group of guys with such a short time being there. I roomed with Jameis, so I got to know him best. We hung out the most off the field. We really all got along great. Even on the field while competing, everyone was having fun.
"Making that connection is something I'll never forget. It's a bond that I thought was impossible to make in a week's time."
According to ESPN, 22 of the projected 32 NFL starters this fall and four of the first 12 picks in the last NFL Draft came through the Elite 11 camp.
Dilfer called the 2011 group "absolute superstars."
"I have never been more proud," he told the group. "But we had to take 24 of the best and narrow them to 11."
When he announced Burcham as one of the MVPs, he said, "The things I value most in passers, you naturally have."
He called him, "Little Joe Montana."
For his part, Burcham thrived under Dilfer's tutelage.
"He's the kind of coach you want," he said following the camp. "He tells you when you do good and gets excited about it. Then he corrects you when you mess up, specifically. He helps you; he doesn't chew you out. He's a great coach, and I loved it."
Although he's considered a bit undersized, Burcham should have many, many more scholarship offers before he settles on a choice following the season. He's been the talk of Arkansas sports radio and websites since his Elite 11 experience.
According to ESPN, Elite 11 alumni include current NFL players Mark Sanchez, Matt Cassel, Matthew Stafford, Josh Freeman, Troy Smith, Vince Young, Matt Leinart, Tim Tebow and Blaine Gabbert.
Burcham said there was a bit of an adjustment after he returned to Greenbrier from Malibu.
"A lot of guys looked at me different, but I'm still the same old Neal Burcham," he said.
The only thing that's changed is that now the whole country – not just the 501 – knows about him.