Jun 23, 2019

Big hearts: Couple reflects on family, service

by Kiera Ester

When you first meet Greg and Vonda Price, you immediately notice the love and authenticity that they both radiate. Parents to six children, Greg and Vonda have a big family and even bigger hearts. 

Introduced while both were stationed at the Little Rock Air Force Base, they attribute the military for not only bringing them together, but also allowing them the opportunity and exposure to different things and different places while establishing relationships and instilling loyalty among those closest to them. 

After retiring from the Air Force, Greg and Vonda made a home for themselves in Vilonia. 

Greg, a native of Nashville, Tenn., remembers himself as the "average" teen that did not know what he wanted to do with his future. "I decided that I had to do something instead of falling into the same trap as the guy from around the way," Greg said.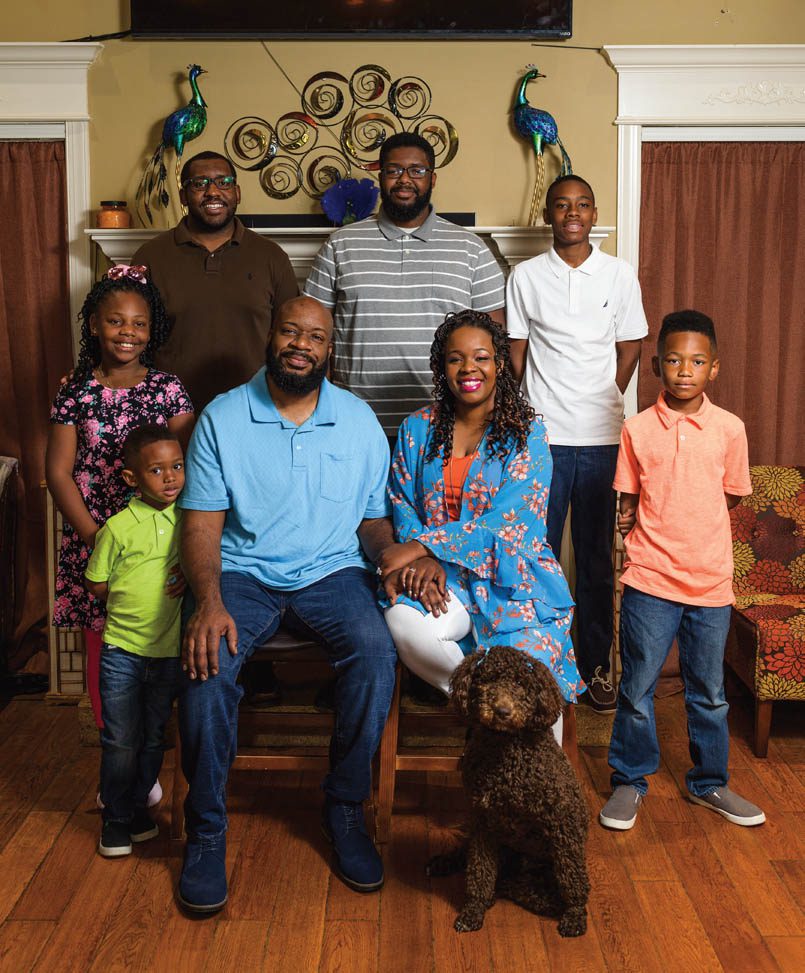 His dad served in the Army, and he chose to follow his footsteps and join the Air Force as a means to give him the path that he needed.
Vonda, a native of Blytheville, said that she joined the Air Force because her dad, step-father and most of her uncles had served in some branch of the military.
After being stationed in different locations around the world, Greg and Vonda's paths crossed when they landed at the Little Rock Air Force Base. Greg's job in the Air Force was initially as an aircraft mechanic and he was later promoted to lead pro super over the largest flight of AMC (Air Mobility Command) airplanes in the Air Force. "It was so impressive to watch him brief in the mornings because he didn't even need his notes — he always just knew everything that was going on," said Vonda about Greg.
Vonda was a scheduler in the Air Force, which allowed her the opportunity to coordinate for aircraft maintenance and schedule which planes were going to be flown. With Greg working as the pro super lead and Vonda as a scheduler, their paths often crossed and led to them eventually becoming a couple. "From the very first day that she walked into one of the meetings that I was in, I said, that's my wife — I knew it," said Greg.
Vonda said that she knew that Greg was a little "sweet" on her from their first encounter, even though he initially tried to deny it. Vonda, who referred to herself as a "momma bear" even before children, said that she would often cook and bring things into work, but Greg never ate her food. She recalled a time in which she baked a red velvet cake and after Greg ate it, he groaned, flailed his arms in the air and walked out. Vonda was initially taken aback by his reaction, but Greg stated that finding out that Vonda could cook meant he had no choice but to fall in love with her. After the second date, Greg purchased a ring for Vonda, but he did not propose until more than a year later.
The Price Family lived in Hawaii prior to making Vilonia their home. Both Greg and Vonda stated that it was the school district that made them want to settle in Vilonia. "Our Vilonia schoolteachers really care about our children," said Vonda.
Their oldest two children started school in the Vilonia school system after moving from Hawaii, and they noticed that there was a "deficit" in their education and test scores. "They made up ground being there with the teachers in Vilonia. With the level of respect, love and Christian values that they hold, it just made it easier to just stay," said Vonda.
In addition to finding a school system that met their needs, they were also in search of a good church home. After retiring from the military, Greg had multiple job offers, but True Holiness Saints Center in Conway was what sealed the deal on staying put in this area.
Greg is now the site supervisor in charge of plant maintenance for Caterpillar in North Little Rock. He also owns a small paint and body shop that restores cars. Vonda is a stay-at-home-mom and is busy with five children at home. "I never thought not having a job would mean that I would always have a job to do."
On an average day, she is waking up kids, taking them off to school, doing loads of laundry, taking them to extracurricular activities or helping with special projects around their school. Greg and Vonda are parents to Xavier, 23; Julius, 20; Myron, 14; Kiya, 10; Brandon, 7; and Keysten, 4.
The ability to have a flexible schedule to tend to family needs has not always been an easy task for both Greg and Vonda. Although serving in the military has allowed them to serve their country and experience life around the world, the time spent away from family was difficult. "We missed birthdays, Christmases, family reunions and even funerals. It wasn't always easy, but I knew that we were making a brighter future for our family," said Vonda.
For Greg, the military has played an integral part of his life because it prevented him from going down the wrong road. "In 22 years, I did 19 deployments to war zones. With 10 years and six months in war zones getting shot at, you get to know yourself and find out that there are bigger things than you."
Learning to lean on people that are not blood relatives is what Greg and Vonda both agree helped them with the difficult times being away from family. They also said that leaning on others has also taught them to be better friends to people.
Vonda credits the military for giving her opportunities and exposing her to different cultures that she would not have otherwise experienced without joining the Air Force. She appreciates the military for allowing her to step outside of her "comfort zone" and making her a more confident person. "I put joining the military as one of my top three best decisions that I have ever made in life," said Vonda. "The first best decision is salvation, the second is marrying my husband and the third is joining the military."