22 Nov 2009

Big Ben's a big hit in Vilonia

Like his business, Waggoner is an unusual combination of talents and interests. He is a residential/commercial contractor, a furniture builder, a stockcar racer and a restaurant owner, as well as a husband and father of two – Gretchen, almost 2, and John, 3 months.
The unusual juxtaposition at the business is a hit.

"Without much advertising, we're packed," Waggoner said. "It's an hour-and-a-half wait on Friday night to sit down."

The restaurant seats 260, but Waggoner says it serves up to 800 on Sunday.

"We have an all-day home-style lunch on Sunday with a full menu," he said, adding that the play area provides overflow seating. (The restaurant doesn't take reservations.)

Waggoner's wife, Valerie, manages the party side when not at her hair salon. "We work 90 hours — a day, not a week," Waggoner joked.

The play area boasts a party room, a hand-painted carousel, a circus train, Las Vegas palms, a safari car, a castle and "the largest jungle gym in Arkansas," complete with 75-foot slide. The walls were painted to resemble stones by Waggoner's mother, well-known artist Suzann Waggoner.

"It's the home of the perfect birthday party," said Waggoner, adding that parties have been booked by people as far away as Arkadelphia and Monticello.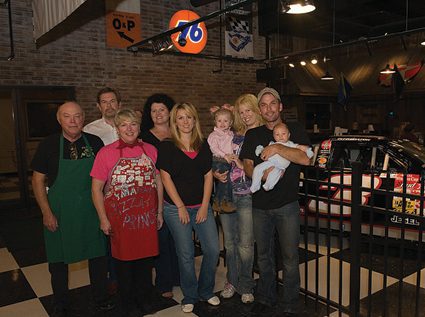 The business opened Oct. 7 with a birthday party for Don Scroggin, who provided financial aid and encouragement for Big Ben's, Waggoner said. "He's my backup dad," he added.
The new business is named after Waggoner's father, Big Ben. Waggoner has always been "Little Ben" to his family.
"I worked for my dad all my life building furniture (Cadron Creek Table & Chair), Waggoner said. "Now he works part time for me."
The oldest of five children, Waggoner is the only one who didn't attend college. He wanted to race stockcars. He has done so, successfully, for 18 years, having won more than 250 events. It isn't surprising that the restaurant contains NASCAR memorabilia and is anchored by a Dale Earnhardt Sr. race car.
Waggoner, his father and his crew built the restaurant's furniture. The walls are made from wood from a barn owned by Scroggin, originally carted by covered wagon from Tennessee in the 1850s. Antique glass lamps light the booths.
Restaurant hours are 11 a.m.-8:30 p.m. Tuesday-Sunday. A seafood buffet is the main focus from 4:30 to 8:30 p.m. Thursday through Saturday, although menus are also available. With the exception of the Alaskan crab legs, the seafood, which includes catfish and three kinds of shrimp, is fresh. It is delivered daily packed in dry ice. On Saturday, calamari and scallops are added to the buffet.
"We buy everything we can possibly buy from Arkansas," Waggoner said. "I cook every Thursday, Friday and Saturday night."
Five of Waggoner's 52 employees are cooks, and he originally planned to be the "up-front" person, but it didn't work out that way. He thinks when the owner is doing the cooking it makes customers feel that the food is better. Pizza is the focus on Tuesday and Wednesday, and children eat free. The pizzas are made from scratch, including the crust, in the pizza-making and drive-through section of the 3,000-square-foot double kitchen, which is designed "so we're not running over each other," Waggoner said.
"There are no boxes of frozen this or that," he added. "Everything is homemade, top to bottom."