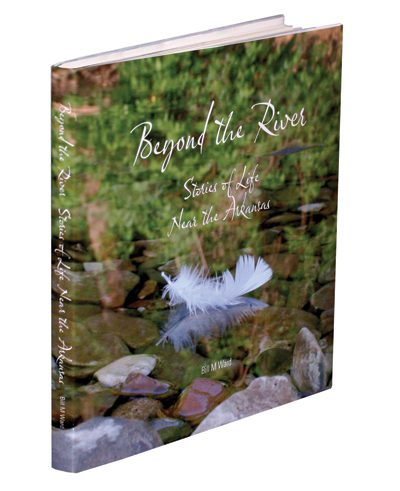 22 Oct 2011

'Beyond the River' set for release

Posted at 5:29 PMh

in

News

The Arkansas River enters the state near Fort Smith and leaves it near Arkansas City as it joins the Mississippi on its journey to the Gulf of Mexico. It brings life-giving water, transportation, recreation and a kind of focal point for all the communities along its length. A large diversity of people and ideas are marked by life near this third-largest river in the United States.

Now, Bill Ward has brought together a number of photographs and stories of many of the people and places near this stream – some from long ago, some from not so long ago – in his new book, "Beyond the River . . . Stories of Life Near the Arkansas River." The book is set to release Thursday, Dec. 8, at an all-day booksigning at Pictures Et Cetera Fine Art Gallery in Downtown Conway.

Ward published his first book, "Conway As it was . . . As it is," in 2009.

This new book brings to light a number of interesting people who have helped create the fabric of life in the Natural State. Witness an elephant sanctuary, one of only two in the nation, near Guy; read the full story of Dr. Jim Gray, the traveler camped near Greenbrier who claimed to be an eyewitness to the Indian wars of the early 19th century; see a heart-warming photograph of the rescue of a 7-year-old girl who spent three weeks adrift in the South Atlantic; read about an Arkansas soldier who was held for a year in the infamous Stalag 17 German concentration camp during World War II and kept a diary; learn the real story of how the Ozark Folk Center came to be; thrill to the actions of a true war hero from Morrilton, Nathan Gordon; learn new information about the Arkansas Rockefellers – Winthrop and Winthrop Paul; witness a little town with a big heart and hear about a preacher in the Ozark Mountains who grew up learning the art of whiskey-making before turning in a different direction. These and so many more are found in this new book.

"Beyond the River," containing 120 pages, has been in the making for more than two years and includes more than 241 photographs. John L. Ward, brother to the author, developed the narrative of more than 50,000 words, and Emelene Russell of Castle Rock, Colo., designed it.

Copies may be reserved by visiting Ward's website, billwardphotography.com, by calling the author at 501.450.2599 or by mailing your request to P.O. Box 33, Bee Branch, AR 72013. Signed books will be available beginning the day of introduction.

Ward said people who bought the first 500 numbered editions of his last book would be able to reserve their same sequence number for this new book. The book sells for $110, as did the first one.