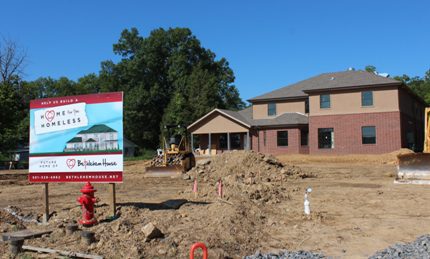 19 Aug 2013

Bethlehem House working to address decrease in operating fund

Posted at 3:32 PMh

in

News

by Sonja J. Keith

While excitement is building over a new homeless shelter in Conway, Bethlehem House officials are concerned about a drop in donations to the organization's operating fund.

Bethlehem House Executive Director Judi Lively and board president Aimee Prince gave 501 LIFE a tour last week of the shelter and discussed the organization's finances.


"Our current budget says we will end the year in the red. I'm not sure that's ever happened before," said Judi. "It's certainly not happened in the 10 years I've been involved with Bethlehem House. And, we will be working hard to ensure it doesn't happen this year either."


The staff and board are working to address the operating fund. "We are trimming the budget in several ways. Changes in staffing are coming through attrition," Judi said. "Losing a couple of key individuals has allowed us to be more creative in scheduling, but is also impacting the supportive services we provide."


As an example, Judi explained that case managers are spending more of their time transporting residents. "Case management is a key component in helping clients improve their life situations," she said. "We're utilizing more volunteers, but there are times the facility is left without staff to answer the door and phones. We are not able to stock the food pantry as often, leaving us turning away people in need of food."


NEW SHELTER


"We're a little concerned that when people see this building they will think we have all we need and that's not true," Judi said, adding that the agency still has bills to pay – from utilities and payroll to food.


Workers were busy last week, painting walls, placing floor coverings and installing kitchen equipment. The shelter is expected to be completed mid-September with the move in October.


"Doug Price (project superintendent) and Beth Maris (project manager) have been great to work with," said Judi. "They've worked extremely hard to stay on schedule, to meet our needs and to efficiently manage change orders. Working with Nabholz has been a very good experience."


As Judi and Aimee made their way through the muddy yard to the shelter, Aimee commented that she cries each time she visits the construction site or even thinks about the project. She is thankful for the many individuals and groups that have made the facility possible.
Among the building's features:

FRONT PORCH – At the entrance to the shelter, there will be a place for recognition. Custom inscribed pavers will note donors of $1,000 to $5,000. (Donations can still be made.)
LOBBY – There will be a sign-in area for those coming to the shelter for dinner or a food box. The shelter will be equipped with security cameras, with a large monitor in the lobby area.
MULTI-PURPOSE ROOM – In the office area, there is a large space that will be equipped with computers for residents to use in doing job searches, resumes, etc. It will also be a conference room for meetings.
Aimee pointed out that now the Bethlehem board has to meet off-site because there is not adequate space in the current facility. "It will be nice to meet at the house," she said.

"It's good for them to see the program and what's going," Judi added.

DINING ROOM – The new shelter will be able to seat 48 around round tables at meals.
"Now, people eat all over the house and in the yard," Judi said of the current shelter's small dining space.

Virco Manufacturing is donating the tables for the dining and conference rooms as well as the office furniture.

COMMERCIAL KITCHEN – The new kitchen will have the equipment and space to better prepare meals on site for residents and those needing food assistance.
According to Judi, the current shelter is 100 years old and she's certain the cabinets are original to the structure. "It's unbelievably hot in there."

Aimee added that most of the groups that provide meals for residents and the nightly soup kitchen prepare the food off-site and bring it in.

LIVING ROOM – "We've never had one before so we're excited about that spot," said Judi.
LAUNDRY ROOM – The new facility will have four washers and dryers, doubling the capacity to do laundry.
Upstairs, there are eight bedrooms and a playroom. "Today there's no place for our kids to play inside unless it's in the dining room," Judi said. The room will have artwork, courtesy of JoAnn Huselton of Pictures, Etc., but the rest of the room has not been furnished.

There will be a fenced playground area outside, with equipment provided through th
e City of Conway Community Development Block Grant.

The number of children at the shelter varies. On this particular day, there were three, ages 8 months to 11 years.

The shelter will also have two rooms designated for emergencies, when individuals find themselves homeless because of fire, eviction, etc. There will also be a handicap accessible bathroom. "We've never had that," Judi said.

According to Judi, budgeting for the new shelter is challenging. "We are guessing on utility costs. Obviously they're going to be lower than in our current facilities, but we're not sure how much," she said. "We are expecting to have a small mortgage on the facility. We've not had a mortgage in several years.

"We currently pay to lease two buildings, but that cost is reimbursed by grant funds from Housing and Urban Development. This grant will not pay for a mortgage."

When the house is completed, there will be opportunities for the public to tour and participate in "housewarming" events. Dates will be posted on Facebook and website.

"We know that God is in control of this situation," Judi said. "A year and a half ago, we weren't able to see how we could possibly raise the funds necessary to build this facility. But God had another plan! We are doing what every individual and organization has to do – we're reviewing our program and our costs to ensure we are being as fiscally responsible as possible.

"And, we're still counting on God and this community to help us through these lean times. I've said many times this is an amazingly generous community – and I believe it still today!"