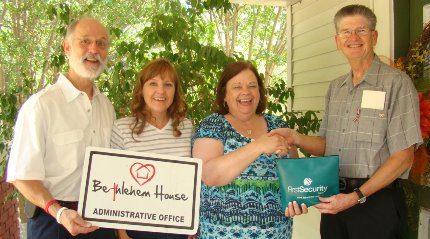 13 Aug

Bethlehem House plans groundbreaking Aug. 28

A new homeless shelter will soon be one step closer to fruition.


The board of directors for Bethlehem House in Conway has announced a groundbreaking ceremony for 9:30 a.m. Tuesday, Aug. 28, on the 1.15 acres of land purchased at Faulkner and Duncan streets for the new facility.
In February, two matching grants and a lead corporate gift were announced to kick off the public phase of the Home for the Homeless capital campaign to raise $1.3 million for a new home to serve Faulkner County's more than 200 homeless men, women and families.

Conway Corporation, which operates the city-owned electric, water, wastewater, cable internet and cable television utility services for the citizens of Conway, has provided the lead gift of $250,000. Conway Corporation is a not-for-profit organization that has been part of the Conway community since 1929. Its employees are regularly involved in community programs and organizations.

The J. E. and L. E. Mabee Foundation Inc., a Delaware non-profit corporation, has provided a matching grant of $230,000. The Windgate Charitable Foundation, based in Siloam Springs, has provided a matching grant for $200,000.

The 100-year-old Victorian house on Faulkner Street that has housed the Bethlehem House mission since it began in 1991 is in desperate need of immeasurable costly repairs.

The new 7,200-square-foot facility will allow Bethlehem House to serve 35 residents in one location and up to eight people in emergency situations – a much-needed resource that doesn't exist in Faulkner, Perry or Conway counties.

For more information on Bethlehem House and to make an online donation, please visit bethlehemhouse.net.