10 Nov 2020

Bergersen, Jones named to All-SLC team

Story provided by UCA Sports Information

The University of Central Arkansas Bears had a pair of players named preseason All-Southland Conference on Nov. 3 and were picked seventh in the SLC preseason poll, as voted on by the league's coaches and media relations directors.

UCA senior guard Rylan Bergersen was a first-team All-SLC selection, while senior point guard DeAndre Jones was named to the second team.

Bergersen and Jones both hail from Boise, Idaho. Jones is a three-year starter for the Bears after playing at Link Year Prep. Bergersen, who also played at Link Year, transferred to UCA from Brigham Young a year ago.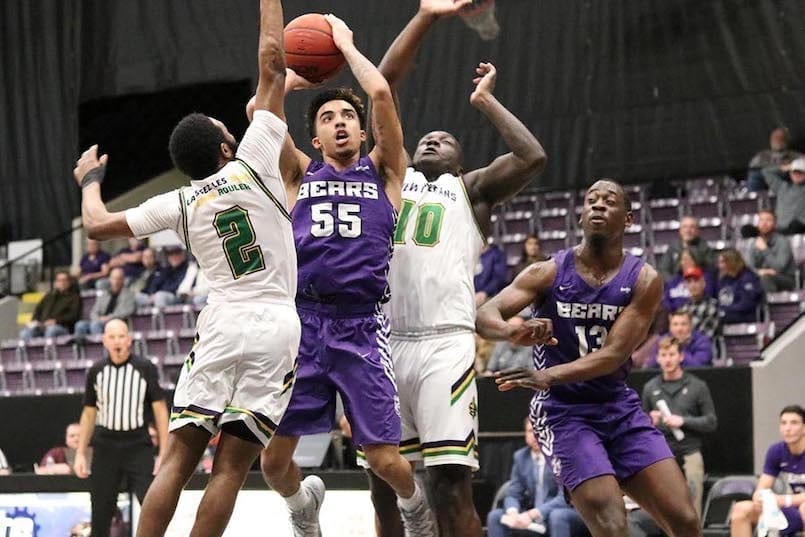 Bergersen led the Bears in scoring last season at 15.8 points per game, while making 43 three-pointers and pulling down 4.5 rebounds per game. He had season highs of 25 points (vs. Nicholls and Northwestern State), 12 rebounds (vs. Northwestern State) and 6 assists (four times). Bergersen scored in double figures 28 times in 31 games while averaging a team-best 33.6 minutes a game.
Jones, the career assist leader at UCA, was the Bears' second-leading scorer a year ago, averaging 12.9 points per game. He also averaged 6.0 assists per game to lead the SLC. Jones had season highs of 26 points (vs. McNeese and Nicholls), 7 rebounds (three times) and 11 assists (three times) while missing more than a month with an injury. Jones has 452 career assists, shattering the old mark of 341.
The Bears were picked seventh in the poll with 153 total points. Stephen F. Austin was the top choice, followed by Abilene Christian, Sam Houston State and Nicholls. Five different teams received at least one first-place vote.The Bears open the 2020-21 in 21 days, taking on the Ole Miss Rebels on Nov. 25 in the Justin Reed Ole Miss Classic in Oxford, Miss.