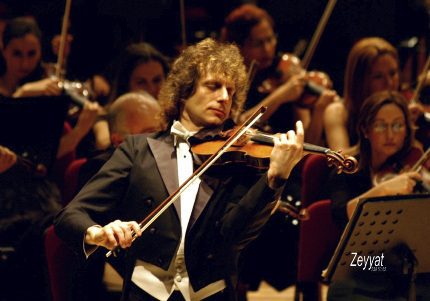 14 Apr

'Beethoven on Fire' with the Conway Symphony

The Conway Symphony Orchestra will take to the stage for a final concert with principal conductor Geoffrey Robson at 7:30 p.m. Saturday, April 19, at Reynolds Performance Hall to present "Beethoven on Fire."

The performance will feature violin virtuoso Alexander Markov on Mendelssohn's "Violin Concerto," followed by Beethoven's "Symphony No. 2," two of the "great works" of the orchestra that will be familiar to many concertgoers.


Tickets are $20-$38 for adults and $6 for students, at the Reynolds Box Office, 501.450.3265, or ConwaySymphony.org. Reynolds Performance Hall is located on the University of Central Arkansas campus in Conway, on Beatrice Powell Drive off Donaghey Avenue. The performance is supported by concert co-sponsors Arvest Bank, Conner and Sartain CPA, First Service Bank and Lansky Sound, with guest artist sponsorship from the UCA College of Fine Arts and Communication, and hospitality co-sponsorship from The Village at Hendrix and Delta Trust.


"Beethoven's Second Symphony will be an exuberant and thrilling performance by the players in the orchestra," Robson said, describing the piece as one of Beethoven's very best. "It really is a gem, really brilliant." The famous Mendelssohn Concerto is one of the three most frequently performed violin concertos. "Together, they are a great way to end the season!" Robson said.


Internationally celebrated violinist Alexander Markov has been hailed as one of the world's most captivating and versatile musicians. Born in Russia, Markov emigrated to the U.S. with his parents, and made his New York debut recital at Carnegie Hall in 1983. A Gold Medal winner at the Paganini International Violin Competition, he has appeared as a soloist with some of the world's most celebrated orchestras. His CD release and DVD of the 24 Paganini Caprices caused a sensation and became best-sellers, with YouTube clips of up to 1 million hits.


Markov also created "The Rock Concerto," and works to bridge the gap between classical and rock music audiences and to attract young people who might otherwise never attend a symphony concert.


In keeping with that theme, "Beethoven on Fire" is also the School Night concert for the 2014-15 Conway Symphony Orchestra season. Any secondary student involved in a music program – orchestra, band, choir, private or group lessons – can attend the concert for free, with a student ID and a ticket voucher from his/her music program director.


For more information or a voucher, please contact the CSO at [email protected], 501. 269.1066. UCA students may also attend the concert for free with their student ID, thanks to the Artist in Residence program of the UCA College of Fine Arts and Communication.


Now completing its 29th season, the Conway Symphony Orchestra brings professional concerts, exciting guest artists and high-quality music to the Central Arkansas community. For more information on concerts and other programs, visit ConwaySymphony.org or call 501.269.1066.