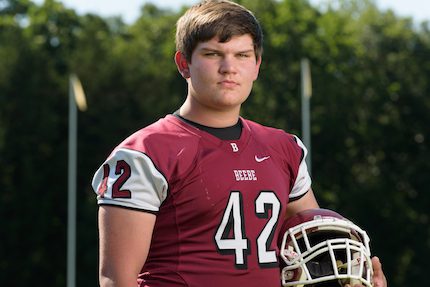 06 Aug 2016

BEEBE: Badgers fighting for playoff berth in 5A Central

Conference: 5A Central
Coach: John Shannon
'15 Record: 5-5


After starting the season 1-3, the Beebe Badgers rallied to win four of five down the stretch, securing a return trip to the playoffs in 2015.


Junior Mason Walker returns at quarterback for the Badgers after an injury-shortened campaign last fall. Classmate Kahil Anthony joins Walker in the backfield at running back. Seniors Garrett Grier and Parker Payne work at tight end in the Badgers' Dead T offense. Payne — a 501 Football Team honoree — also sees time at tackle. Seniors Caleb Hurt and Dalton Robinson; juniors Joseph Davis, Tristen Frame and Toby Towns; and sophomores Callie Neal, Zack Adams and Brayden Healy rotate on the offensive line.


Seniors Hunter Newman, Grant Jackson and Payne lead the way on the defensive line in Beebe's 3-4 scheme. Grier; juniors Nathan Burnett and Zack Andrews; and sophomore Jack Jennings fill out the linebacker corps. Seniors Nathan Clifton, Evan Cockrum and Stephen Hamil and juniors Anthony and Walker man the secondary.