28 Feb 2023

Beauty blooms in Downtown Conway

By Carol Rolf

As Conway residents ventured out mid-morning in advance of a winter ice storm last month, one woman took time to slow down and "smell the roses." However, the flowers were not roses, but a variety of brightly colored blooms painted on the side of a building.

"Who's the artist?" queried the driver as she saw the artist at work. The answer: Jessica Jones.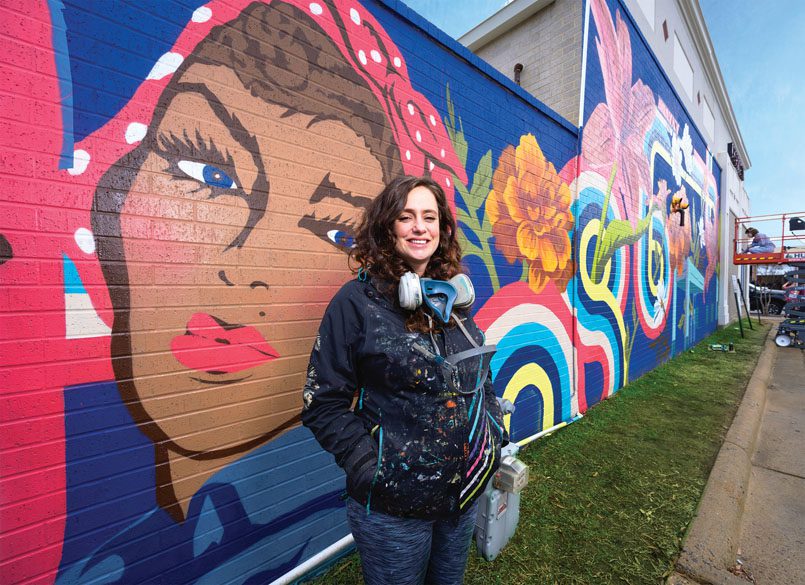 Jones could be seen recently in downtown Conway painting one of her latest outdoor murals. This one is on the side of the U.S. Pizza Co. at 710 Front St. Jones received a commission for the mural from restaurant owners Esther and Hunter McClellan and Don Henderson, who received a grant from the Downtown Conway Partnership (DCP).
Kim Williams, executive director of the DCP, said the grant was a Main Street Arkansas Downtown Revitalization Grant. "The Conway Downtown Partnership receives this grant each year," Williams said. "It is made possible by Main Street Arkansas and the Arkansas Department of Heritage, and we distribute the funds locally. A total of seven projects in Conway were awarded grants this year.
"It's a 50/50 matching grant," Williams said. "It's for $2,500. This mural project well exceeds that amount, but the owners were willing to make up the difference."
Esther McClellan said she and her co-owners bought half of the building that was torn down and rebuilt in 2009 and renamed Satterfield Station.
The revitalization project was led by Greg Nabholz, CEO of Nabholz Properties Inc., and M.M. "Branch" Satterfield III, president of M.M. Satterfield Oil Co. McClellan said the original plan for the building included residential living and office space. Currently Nabholz Properties has its corporate offices in the other half of Satterfield Station.
"We knew of Jessica's murals in other locations and wanted her to do this one," McClellan said. "She is so darn good, and we are so excited to see it nearing completion."
The mural features Rosie the Riveter on one end of the building connected by flowers and other designs to the other end, which features a stylized version of an old Satterfield gas station. "We wanted to do this as an homage to the Satterfields," McClellan said. "Versions of Rosie the Riveter are used in many of the U.S. Pizza locations. The finished mural will also include the circle logo for U.S. Pizza, which features Uncle Sam eating a slice of pizza."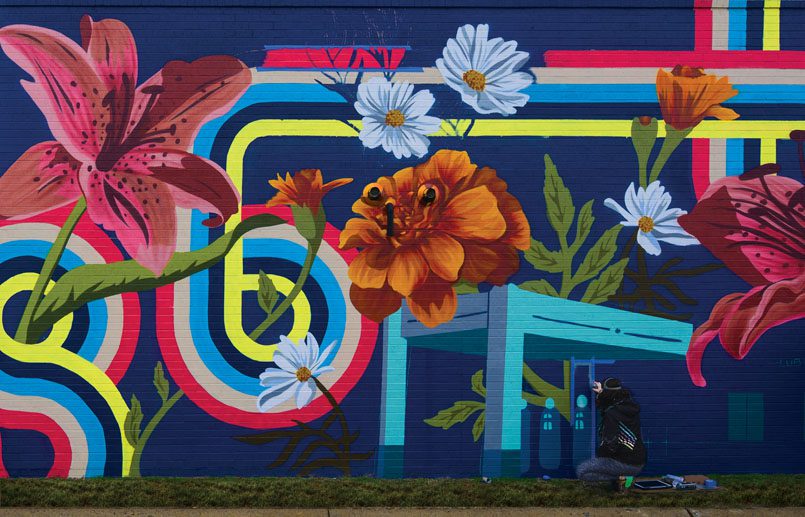 The McClellans and their partners also own a U.S. Pizza Co. in Cabot and one in Springdale. "When we started thinking about opening U.S. Pizza locations, I just knew Conway would make a perfect location," she said.
In creating this mural, the Conway-based artist said she used a special order spray paint made strictly for murals. "It's more forgiving than latex, which is more sensitive to the cold weather," said Jones, who was assisted by Indi Minett of Conway. Jones said she uses an iPad to create sketches for her murals. "It's easier to use the computer with a special program for artists than to draw out sketches on paper," she said, laughing.
"Esther liked the idea of using Rosie the Riveter, and I did, too," Jones said. "Rosie is a symbol of strength. This mural shows her strength, and the flowers symbolize this building coming back to life."
Jones, who was born in Florida, has lived in Arkansas for about 10 years. She has a degree in equine reproductive science and is a self-taught artist. She has created indoor and outdoor murals in Conway and other parts of Central Arkansas, including several in the Little Rock-North Little Rock area and in Jacksonville. She also has work on display in the Fayetteville area.