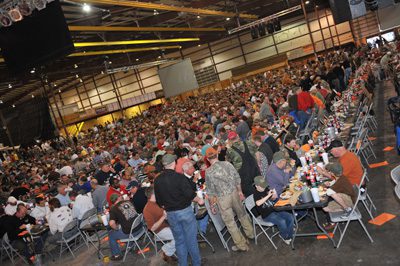 18 Jan 2012

Beast Feast tickets on sale

Tickets are still on sale for the 11th annual Beast Feast planned Saturday, Feb 4, at the Conway Expo Center and Fairgrounds.


Held each winter, the event is open to men and boys of all ages and is a night filled with games, entertainment, prizes, live music, great food and great speakers.


The event – an outreach of the Second Baptist Men's Ministry – has grown in attendance from 500 in its first year to 2,500.


The guest speaker for this year's event will be long-time TV host Hank Parker, who has had his own fishing or hunting show since the late 1970s.


Doors will open at 1 p.m. for the expo area with the program at 5 p.m.


Those attending have an opportunity to win a variety of prizes, including a Bassett double reclining sofa with matching rocker recliner, a $1,500 value, donated by Cajun Brothers.


A non-profit event, Beast Feast organizers seek groups and individuals who would like to get involved either with cash donations or prizes. "We only charge $20 per person for a very fun filled evening and it costs about $35 per person to hold the event," said organizer Chris Green. "As you can see, we depend on community support to make Beast Feast possible."

Tickets can be purchased online at beastfeastarkansas.com. The website features additional information and photos from last year's event.


Those attending are encouraged to bring non-perishable food items for "Beast Feast Feeding The Hungry." The items will be donated to local food pantries to help those in need. As a bonus, those attending will get an entry into a special prize drawing for every item they bring.