08 Feb 2012

Beast Feast 2012 exceeds expectations

The 11th annual Beast Feast exceeded all expectations with a bigger crowd and a guest speaker described as "the best" ever.


The event was held Saturday at the Conway Expo Center and Fairgrounds.
Long-time TV host Hank Parker, who has had his own fishing or hunting show since the late 1970s, was the guest speaker for the event. "Our speaker has been referred to as the best in our 11 year history," said organizer Chris Green.

About 2,500 men and boys attended from throughout Arkansas, about 150 more than last year. "I also met men from Missouri and even South Dakota. The man from South Dakota is a former Conway resident that traveled back just to attend Beast Feast."

Those attending were encouraged to bring canned goods. "Our 'Beast Feast Feeding the Hungry' ministry has continued to grow. Now in our third year of partnership with Soul Food Café and Bethlehem House, the food donations reached 3,500 items and filled 151 large boxes which were split evenly between the two charities." In addition, $570 in cash was also donated.

Grand prizes valued at more than $20,000 and more than 850 door prizes were given away at Beast Feast. Major prizes and the winners included:
2012 Polaris Sportsman 500 from Polaris of Conway – Mark Millikin.

TaylorMade RocketBallz Driver, Iron Set and Bag donated by Arkansas Golf Center – William Allen.

Leather sofa and chair donated by Cajun Brothers – Kenny Elliott.

50-inch Panasonic Plasma HDTV donated by Larone Lowe – Brian Dunaway.

Remington Model 870 Wingmaster Shotgun donated by Remington – Ken Dance.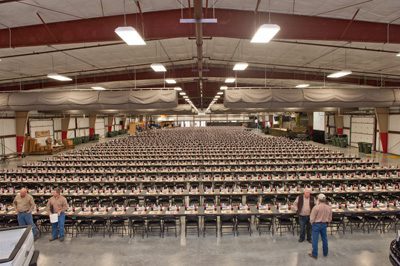 501 LIFE partnered with Silver Hill Float Service to give away a four-person float trip. Johnny Henson was the winner of the trip.
Beast Feast is an outreach of the Second Baptist Men's Ministry. Plans are already in the works for next year. "We're already working on our guest speaker for 2013 but it's too early to announce. We'll also be changing our date from the first Saturday in February to the second Saturday (Feb. 9)."
Tickets will go on sale in mid-December.

"Beast Feast is a non-profit event and would not be possible without the generous financial help from local businesses and individual sponsors. We would like to personally thank each of them for their continued support."

For more information about the event, visit beastfeastarkansas.com.
See more on Beast Feast, including LIFE Pics, in the upcoming March issue of 501 LIFE.