01 Sep 2021

Bears to face formidable non-conference slate

CONWAY – The University of Central Arkansas Bears will face the defending NCAA champion among their 14-game non-conference schedule for 2021-22.

The Bears, for the third consecutive season, will take on the Baylor Bears on Nov. 17 at the Ferrell Center in Waco, Texas. Baylor went 6-0 in the NCAA Tournament last spring, cruising past Gonzaga 86-70 in the national championship game. The Bears finished 28-2 overall and 11-0 at home at the Ferrell Center.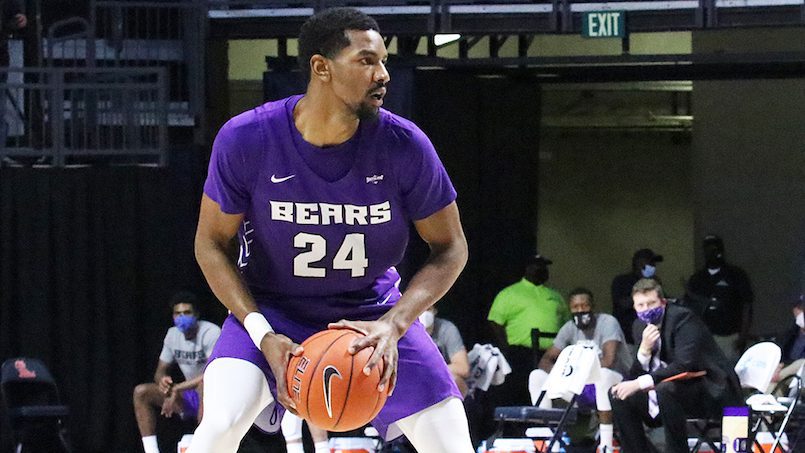 Baylor beat UCA 93-56 on Dec. 29 of last year as part of an 18-0 start to the season. The green and gold Bears did not lose their first game of the season until Feb. 27 at Kansas.
"We've played Baylor the past two years and we thought they were the best team in the nation both times," said UCA head coach Anthony Boone. "We felt last year that they could have been defending national champions also if they had played the (2019 NCAA) tournament. We knew they were the best team in the country then and we think they will be one of the best, if not the best, this year when we play them as well. It will be a tough matchup.
"We're just going to go in and swing away. National champions or not, we're going to try to focus on just playing the game the way we want to play it."
The Bears open the 2021-22 season at St. Louis, taking on the Billikens at Chaifetz Arena on Nov. 12. That will be the first of three road games to start the season, followed by Butler and Baylor. UCA's first home matchup at the Farris Center will be with Oral Roberts on Saturday, Nov. 20.
"Three teams on the road that are really, really good,' said Boone. "We'll find out a lot early. And then the next team, Oral Roberts, made the Sweet 16 last year. We have some really good competition to open the season. We'll have to be tough in those games. We want to be tough in every game anyway, but we'll certainly have to be tough and be positive and keep pushing forward during that stretch."
The Bears will be making their second trip to historic Hinkle Fieldhouse in Indianapolis to take on Butler. UCA lost 82-58 to the Bulldogs back in 2016.
"It might mean a little bit more for the coaching staff because we're a little older than they are," said Boone. "We understand the history of the building, but we'll try to educate them on that in case they don't understand the significance of getting to play there. We might have to have a team viewing of Hoosiers."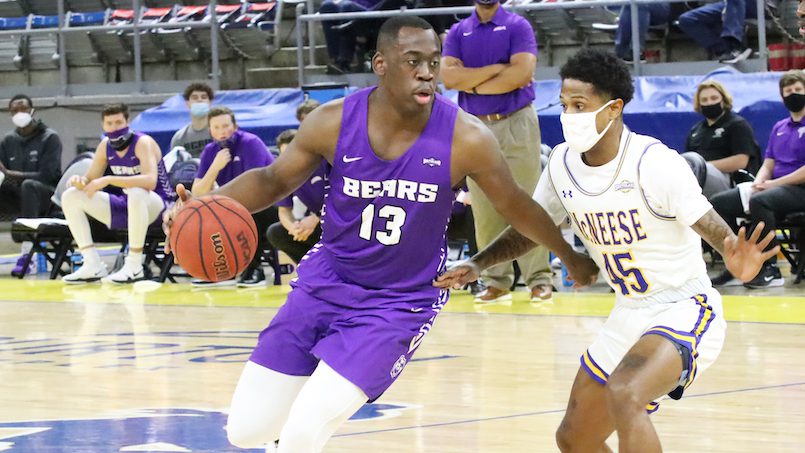 UCA will take part in an MTE (multi-team event) at former Southland Conference school New Orleans from Nov. 24-26, taking on the Privateers, Presbyterian and VMI.
"We get some extra games that way, we can play more than our allotment if we get in an MTE," said Boone. "And we're playing against teams that are similar to us. New Orleans, we're certainly familiar with. Presbyterian we don't know much about except that they've been pretty good. And VMI is going to be a tough opponent also.
"We get three games there and hopefully it will simulate some type of tournament play where we have to play on consecutive days and have short recovery and quick scouts to get ready for another game the next day."
That will be followed by three consecutive in-state matchups against Arkansas in Fayetteville (Dec. 1), at Arkansas State (Dec. 4) in Jonesboro and at home versus the Little Rock Trojans on Dec. 14.
"We're glad to be able to play against the teams in the state," said Boone, a West Helena, Ark., native. "We would like to do that as much as possible. We were actually talking to UAPB also earlier but that was before their coach left. We like playing in-state schools. It's easy trips for all involved. And it's a win-win. We're talking about basketball and we're talking about basketball within the state. It's great to play those games."
UCA will make the short trip to Springfield, Mo., on Dec. 18 to take on the Missouri State Bears at Hammons Arena. The Bears will host cross-town rival Hendrix on Dec. 20 at the Farris Center, then head to face the Texas A&M Aggies on the road before a final home tune-up against Champion Christian on Dec. 31.
"Another tough SEC opponent in Texas A&M," said Boone. "We've liked playing SEC schools over the last couple of years. It will be a good experience because College Station is a great town and that's a great campus and that will be a tough environment to play in. And again, hopefully it will help prepare us to play in some of these tough environments that we're going to see in the ASUN." 
The Bears' first ASUN schedule begins Jan. 4 at Eastern Kentucky in Richmond, Ky.