09 Mar 2022

Bears take series opener against Jackrabbits

CONWAY — The University of Central Arkansas Bears returned home for the first time since Feb. 20 and earned a come-from-behind 5-3 win over the South Dakota State Jackrabbits on March 4 at Bear Stadium.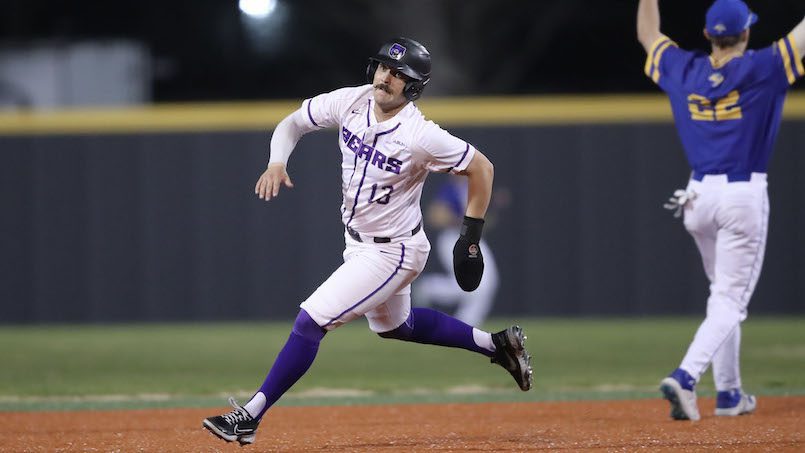 The Bears overcame a 3-0 deficit by scoring a combined five runs from the fourth through sixth innings, and then getting solid relief work from their bullpen. Senior right hander Tyler Navarro went 2.1 scoreless and hitless innings before junior right hander Andrew Shoultz finished it off with 2.2 innings, striking out five of the 10 batters he faced and allowing just one hit and no runs.

Starter Tyler Cleveland fanned nine in four innings while allowing three earned runs. The Bears got him off the hook with a single run in the fourth, followed by a pair of two-run frames in the fifth and sixth.

In the fourth, Drew Sturgeon's sacrifice fly scored A.J. Mendolia, who had led off the inning with a base hit, to get the Bears on the board. UCA added two more in the fifth on a two-run single by left fielder Trey Harris that brought in Connor Flagg and Kolby Johnson, who both had base hits in front of him.

UCA took the lead for good in the sixth when redshirt freshman Tanner Leonard walked, stole second, moved to third on Connor Emmet's sacrifice bunt. Both he and Johnson, who also walked, came in on Mendolia's two-run single to right field.

The Bears finished with 10 hits and left 13 runners on base, including six in the first four innings. Harris, from Little Rock Christian, finished 3 for 5 with 2 RBI, while Mendolia was 2 for 4 with a pair of RBI. Johnson was 2 for 3 and scored twice. UCA stole six bases, including two by bot Sturgeon and Leonard. The Bears also drew seven walks and were hit twice.