13 Sep 2023

Bears take care of business in home opener

CONWAY — The University of Central Arkansas Bears, and their head coach Nathan Brown, were aware of the discrepancy in talent level that would be on display last Saturday night at First Security Field at Estes Stadium.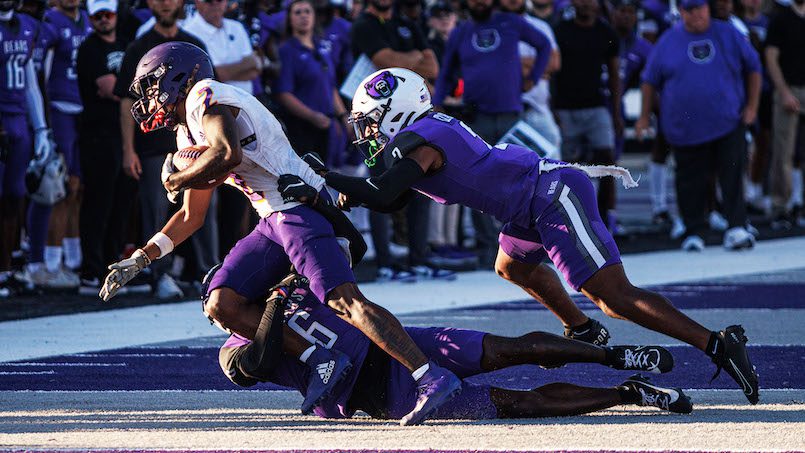 But Brown said the Bears did exactly what they wanted to do against the lower level Texas College Steers, rolling to a 70-2 victory in their home opener on "The Stripes."

"I'm proud of our guys," said Brown. "We knew Texas College was going to come in a bit undermanned with circumstances they were in. But I tell you this, hats off to them, the way they competed. That was impressive, because I don't know how many guys they played, but they played hard.

"They kept us on our toes, we had to play four quarters. Some of our reserves got in and had to compete, and I think that's good. That bodes well for our program, getting guys in and getting an opportunity to be in front of the home crowd under the lights. So we got what we needed accomplished. We got out of here, knock on wood, hopefully injury free, and obviously holding some guys that we hope get healthy for next week." 

The Bears (1-1), who played roughly 90 players on Saturday, scored on 10 consecutive possessions, including three touchdowns in the opening seven minutes and five in the opening quarter, to knock off the NAIA Steers. Texas College was a late replacement for Arkansas-Pine Bluff, due to a scheduling issue with the Golden Lions.

Junior running back ShunDerrick Powell started the onslaught with a 62-yard touchdown run on the second play of the game. Senior defensive back K.C. Clark got the ball back immediately for the Bears with an interception on the Steers' first offensive play. Powell, a transfer from North Alabama, did the honors again, this time for 22 yards out for a 14-0 lead less than two minutes into the first quarter.

Senior quarterback Will McElvain connected with sophomore Myles Butler shortly after for a 26-yard touchdown pass. Junior running back Kylin James then added the first of his two touchdowns on a 25-yard run, good for a 28-0 lead. Fellow junior running back Darius Hale followed with an 11-yard run to close out the first period.

"We've got some really good running backs," said Brown. "And I feel good about probably two deep on the offensive line, and I think they did a good job tonight asserting themselves. But where you see it (the depth) is on defense. Our defensive line stayed sharp, our linebackers were running to the ball. I thought Jacobrien Eichleberger was all over the field. That kid is going to play some big-time football for us.

"He had a big role last week at Oklahoma State. He's young to our program so he got a lot of reps tonight and he's going to play a bigger role as we keep going forward. Mike Onwuzurike had some big plays. Jace Benesch… I could go through the list, but just proud of the guys. Really just continuing to play clean football for four quarters. I think that's what I was most excited about."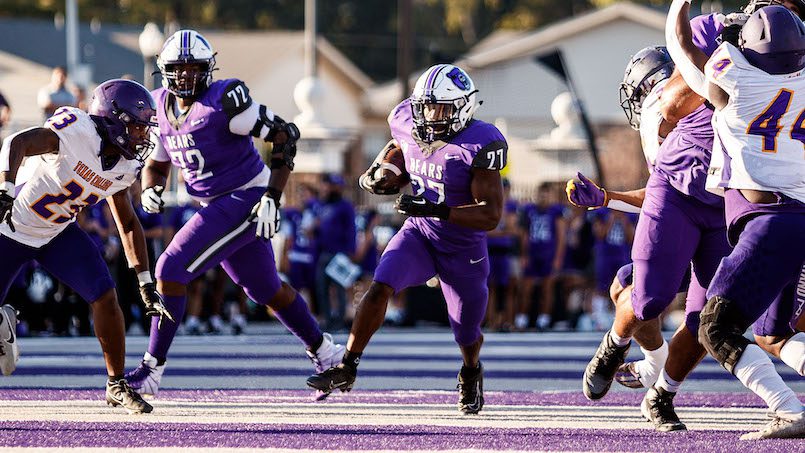 UCA's defense held Texas College to just 108 yards on 55 plays, an average of 2.0 yards per play.

James added his second score on a 3-yard run midway through the second quarter and redshirt freshman quarterback Austin Myers of Vilonia tossed a 32-yard touchdown pass to sophomore Tyion Berry to make it a 49-0 margin at the 2:57 of the second period.

The Bears, who sat our 8-10 players who were dinged up last week at Oklahoma State, would score three more times in the third quarter, starting with Isaiah Broadway's 5-yard run and Jake Gaster's eighth point after of the game. LaJoey Jones, a junior from Mobile, Ala., scored his first career touchdown on a 7-yard run before redshirt freshman Travelle Anderson went 8 yards for the final score with 1:50 left in the third quarter.

Following a UCA interception by sophomore Jacobrien Eichleberger near the UCA goal line, followed by an unsportsmanlike penalty, Texas College finally got on the board with a safety with 7:16 to play.

UCA won the turnover battle 4-0, with three interceptions and a fumble recovery. Redshirt freshman Duncan Parham had the third interception and linebacker Carson Moran recovered a fumble that was forced by junior Michael Onwuzurike. 

The Bears, who played roughly 90 players, finished with 499 yards of total offense, including 396 on the ground. James led all rushers with 103 yards on 10 carries, with Powell adding 87 yards, Hale 64 and Broadway 63. McElvain and Myers combined to complete 8 of 11 passes for 103 yards.

Eichleberger, from White Hall, Ark., and Jace Benesch, from Hoxie, Ark., topped the UCA tackle chart with six tackles, while Onwuzurike had a game-igh 1.5 tackles for loss. 

UCA must shift gears next week to take on No. 2 North Dakota State at the Fargodome in Fargo, N.D. Kickoff is set for 2:30 p.m.

"It's real hard," said Brown. "You play a game like Oklahoma State last week, which is obviously one of the better programs in college football over the last couple of decades. Then you play a game like this where you can let your guard down easily. But I thought we had a good week of practice, I think that's what led into this. Our guys competed in practice this week. We turned the intensity up on them all week. That was strategic as far as the coaches go.

"But man, (now) we're about to go play the Mt. Rushmore of college football, I don't care what level. You're talking about a team that has won I think nine national championships in the last 11 or 12 years. That's as good as it gets. So if you sign up to play big-time football, get ready this week because you're going to get that opportunity."