27 Oct

Bears sweep ASUN football awards

The University of Central Arkansas Bears hauled in all four of the weekly ASUN football player of the week awards on Monday.

Freshman running back Darius Hale was named the Offensive Player of the Week, freshman running back Kylin James was the Freshman of the Week, sophomore defensive end Logan Jessup was named the Defensive Player of the Week and redshirt freshman punter Chandler Caughron took home the Special Teams Player of the Week award.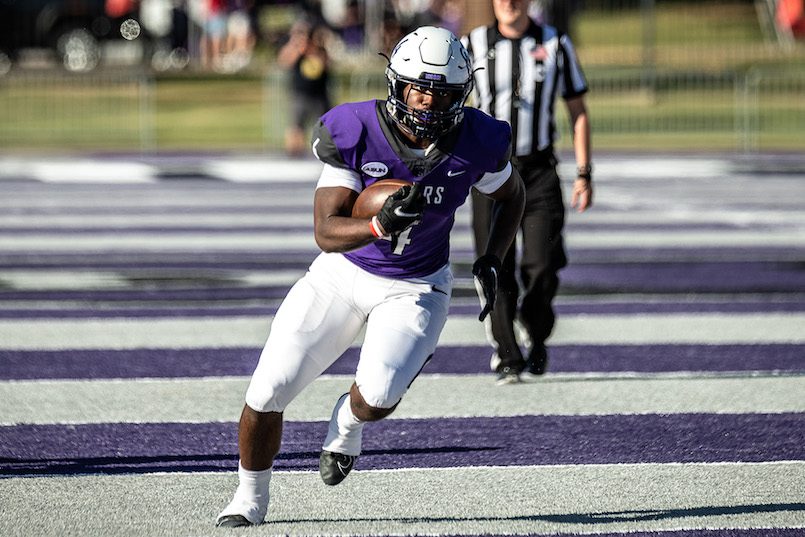 Hale, a 5-foot-11, 215-pounder from Pearland, Texas, turned in one of the best rushing nights in school history in UCA's 49-38 road victory over Lamar. Hale carried 22 times for 253 yards and scored a career-high four touchdowns. Hale scored on runs of 6, 2, 69 and 67 yards and is now tied for the FCS national lead with 13 rushing touchdowns. His yardage mark was the second-best in school history, behind only Blake Veasley's 292 set on the same field against Lamar in 2015.
James, a fellow backfield freshman from Dumas, Ark., carried 11 times for 112 yards, including a 17-yard touchdown run. He also completed a halfback pass to Tyler Hudson that went for a 42-yard touchdown, and caught three passes for 18 more yards.
Caughron, from Evangel Christian in Memphis, Tenn., punted three times for a 45.7-yard average, with a long punt of 50 yards.
Jessup, a 6-3, 255 pounder from Wynne, Ark., registered a team-high 11 tackles, including 1.5 sacks and 2.5 tackles for loss and also forced a fumble that UCA recovered on Lamar's final possession to seal the victory.
Hale received his third ASUN honor this season, two as freshman of the week and one as offensive player of the week. Jessup won his second defensive award, while James and Caughron were honored for the first time. UCA has taken home 14 weekly awards this season.