10 Nov 2021

Bears start fast but fall to Billikens

ST. LOUIS — After a solid 15-minute start to the University of Central Arkansas Bears season, the Saint Louis Billikens shifted gears and pulled away from them in the second half Tuesday night in a 96-61 victory at Chaifetz Arena in the season opener for both teams.


The Bears, who played four true freshmen in the game, shot just 40.4 percent from the field overall, but made 7 of 19 from three-point range. What did in the Bears were 22 turnovers, with SLU scoring 27 points off the miscues. The Billikens also outrebounded the Bears 44-30.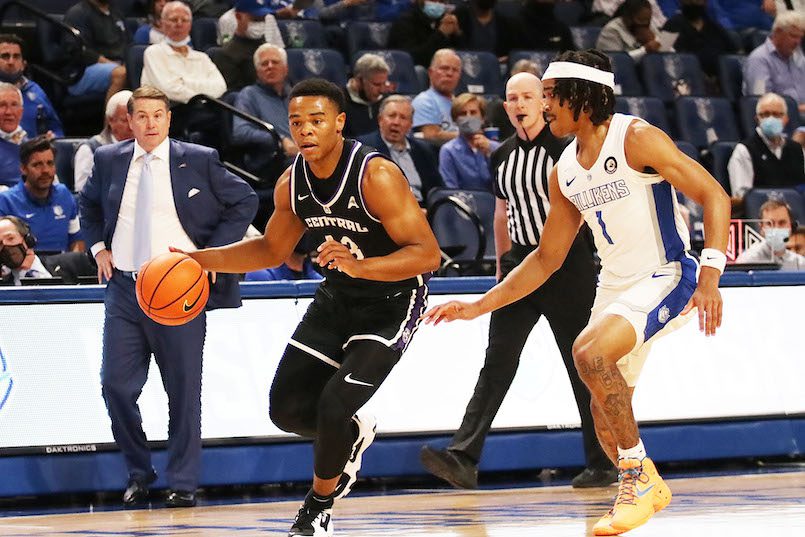 "We started the season, and just like a lot of coaches, we had no idea how we would look," said third-year head coach Anthony Boone. "But I thought we certainly played almost up to our potential the first half. I felt like for 14 or 15 minutes we were the better team. But then that escalated the other way very quickly. And we have to improve on that."

The Bears were tied at 23-23 with 8:43 to play in the first half, but the Billikens outscored them 20-9 the rest of the way to take a 43-32 lead to the locker room. UCA shot 45.5 percent from three-point range in the opening 20 minutes (5 of 11) but hit just 37.9 percent overall. Sophomore guard Collin Cooper had 10 points, going 2 of 3 from beyond the arc.

"We have some really good young players," said Boone. "And some pretty good guys returning as well that are helping them get into the mix of things. But we have to get our young guys to grow up maybe a little faster than they planned to. But I was really happy with the effort for a while."

One of the young newcomers was in the starting lineup in freshman guard Camren Hunter from Bryant. Hunter scored 10 points and made a pair of three-pointers in 26 minutes of action.

"He was great. And I think as long as he wasn't tired, he was really, really good," said Boone. "And I've got to do a better job of watching that during a game, because right now we're down a guard with Lewis (McDaniel) still out. But I thought this was a great first game for Cam. He made some mistakes and he'll learn from those. We'll show him on film some things we've got to do a little bit better."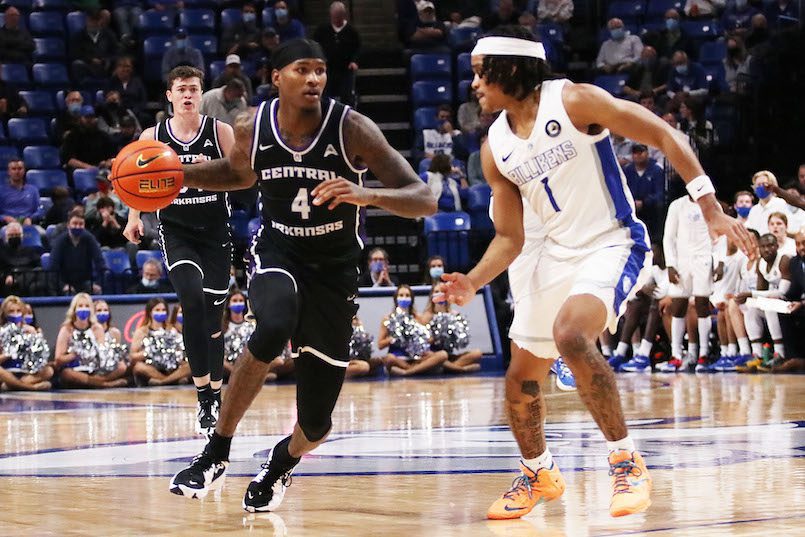 Also in the starting lineup was transfer Darious Hall, who played at Little Rock Mills and Arkansas before transferring to UCA from DePaul. Hall had seven points and a team-high eight rebounds in 26 minutes.

"First game, probably a little bit anxious," said Boone of the athletic 6-7 guard/forward. "He had some great plays and then he had some that were not so great. But he understood that, and that's half the battle."

The Bears' effort for most of the game was certainly satisfactory for Boone.

"That's just what they practice every day," he said. "The guys are good about that, they work hard. It was unfortunate, we had two guys dive on the floor and we end up losing the ball and they hit a three. You like to see guys get rewarded when they hustle like that. But we'll keep doing that. We're not going to grow weary of doing what's right."

SLU, which shot 51 percent for the game, had three players in double figures, led by Jimerson Gibson with 17 points. The Billikens made seven three-pointers in the second half after going 2 for 8 in the opening half.

UCA continues its three-game road trip to open the season on Friday night against Butler at historic Hinkle Fieldhouse in Indianapolis, Ind. Game time is 5:30 CT.