03 Aug

Bears solid through two days of fall camp

CONWAY — The University of Central Arkansas Bears have done enough in the first two days of Fall Camp to keep head coach Nathan Brown happy.

The Bears, who open the 2022 season on Thursday, Sept. 1, at home against Missouri State, spent the first two of five days in helmets on the practice field adjacent to the indoor facility. They will shift gears and add shoulder pads on Thursday.

"As a whole, we're moving around really fast," said Brown after Wednesday's morning workout. "I think we've retained a lot of knowledge from spring to summer and now to fall camp. A lot of plays being made.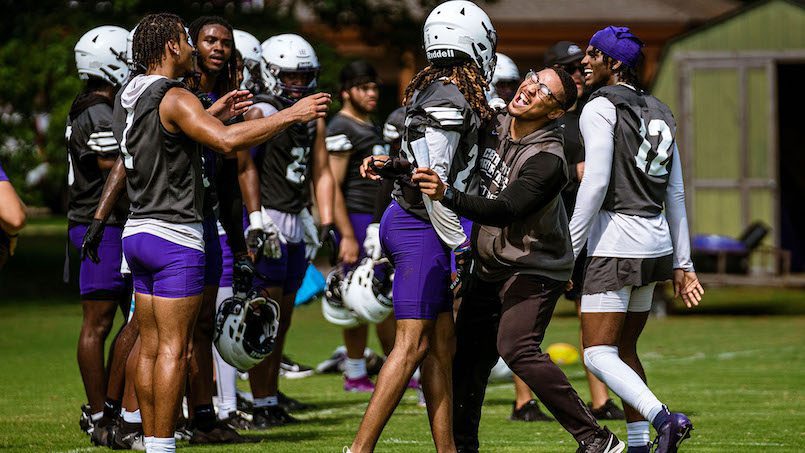 "Now it's hard to tell with just helmets on the first two days, but I like our group. I think we have a hungry group, and I've said that for the last six or seven months," Brown said. "I think these guys are excited about football. Now there is not a lot of guys that have done it here. We have a few that have been all-conference caliber players or All-Americans at UCA, but there are a lot of new faces.
"And I think that's what's been exciting."
Brown said the sheer number of newcomers has led to some quality competition across the board.
"There is some great position competition going on," he said. "When you look at the defensive backfield, specifically corner. You look at some spots at wide receiver. Tight end, offensive line, there are some really good battles going on. And we'll learn a little today when we put the shoulder pads on."
A few miscues have caught the attention of the coaching staff, Brown said.
"There's been some missed assignments, like there always is," he said. "We've done a good job retaining from the spring and summer, but we're very detailed when we're running our offense and defense and special teams. And guys have to understand that you'll be exposed whenever you play in a game. Being in the area is not good enough, you have to be precise and make the plays.
"So that's been a point of emphasis in our meeting times and our walk-throughs away from the field. But man, the two hours of practice when we're not having to coach effort and the guys are excited about being here, it's easy to be a coach."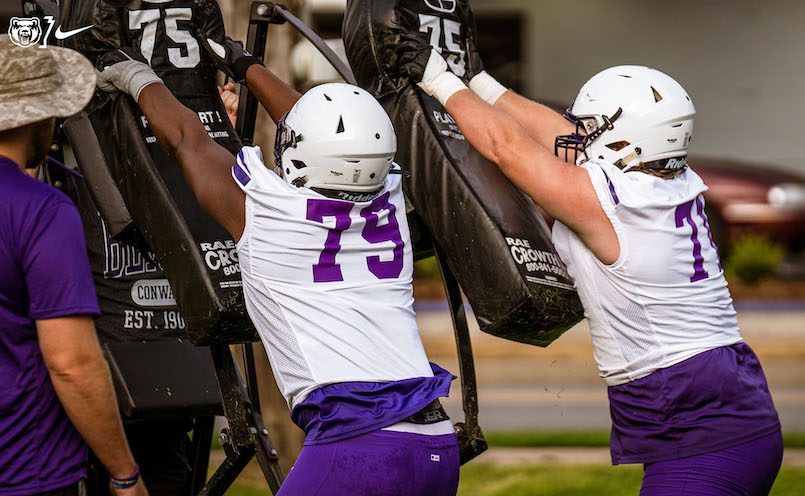 A few individuals have stood out, according to Brown, both returnees and newcomers.
"You look at what Will McElvain has done the first two days at quarterback," Brown said. "He has a command of the offense and I really like what he's doing back there. (Sophomore running backs) Darius Hale and Kylin James both look like they are picking up where they left off at the end of last year. And getting Trysten Smith back in that room is big as well.
"And there have been some big catches in the wide receiver group. Myles Butler has had some big catches, Christian Richmond and Jarrod Barnes are playing at a high level, J.D. White can play just about every position," Brown said.
"And on defense, our defensive front is extremely explosive. David Walker and Logan Jessup on the ends, it's hard to block those guys. Then you can throw in Jake Golday and Jace McCoy and you're sitting in a good spot. And Caden Brown and Jalen Bedell, those guys in the middle, are really holding it down.
"I'm excited about some guys that you expect to step up and they have. That's good to see through two days."
The Bears will continue their 9 a.m. practices through Saturday before moving to a 3:30 p.m. start on Sunday.