23 Nov 2022

Bears share inaugural ASUN title

CONWAY — Four turnovers were more than the University of Central Arkansas Bears could overcome on Saturday's "Senior Day" at First Security Field at Estes Stadium in a 40-17 loss to the Jacksonville State Gamecocks. 


Still, the Bears earned an ASUN co-championship, along with Austin Peay and Eastern Kentucky, in the inaugural year of football in the league.

UCA (5-6, 3-2), playing for an outright ASUN title, lost four fumbles, two of which gave JSU the ball deep in UCA territory in the second quarter and led to a 26-10 halftime deficit. The Bears actually outgained the Gamecocks 498 yards to 443, but JSU had just one turnover, an early interception by UCA redshirt freshman cornerback Sean Smith. But the Bears could not capitalize, turning the ball over on downs. UCA also had a punt blocked that went out of the end zone for a JSU safety.

Saturday's game was nearly the exact opposite of the first meeting between the teams a year ago in Jacksonville, Ala., when UCA intercepted three passes and returned two for touchdowns and won 38-14.

"First of all, give credit to Coach (Rich) Rodriguez and Jacksonville State, because that's a good team," said UCA head coach Nathan Brown. "I thought they came prepared and made some big plays tonight. The frustrating part for us tonight was just the first half. You've got four fumbles, and you lose all four of them — it just puts your defense in a bad spot.

"We just couldn't gain any momentum. I thought not converting on the early fourth down was a crucial part of the first half as well. It was at the beginning if we could just find a way to tread water and get out of that stretch of just negativity going. And we haven't been one of those teams that turns the ball over like that, especially on consecutive plays or drives or whatever it is. So, you just thought if we could tread water and get the game to a one or two-score game going into the late third quarter or fourth quarter, we'd have a shot.

"We weren't able to do that, but I thought our guys battled; they played hard. They wanted it tonight. We just didn't execute very well."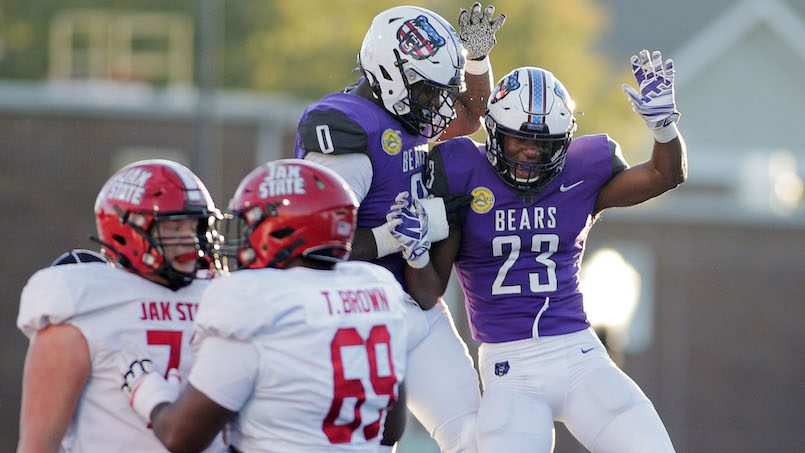 UCA junior quarterback Will McElvain completed 23 of 43 passes for a career-high 349 yards and a touchdown. UCA had two players with 100+ yards receiving as sophomore running back Kylin James caught seven passes for 106 yards, and redshirt freshman receiver Myles Butler had five receptions for 120 yards. James added a team-high 67 rushing yards, including a 3-yard touchdown run.

The Gamecocks, who were ineligible for the ASUN championship because of their transition to the FBS level, opened the game with a 5-play, 75-yard scoring drive in the first 2:30 of the game and never trailed after that. 

UCA, down 16-0 early in the second quarter, got a 21-yard touchdown pass from McElvain to sophomore receiver Trustin Oliver, then added a 27-yard field goal by senior Hayden Ray. That kick broke the UCA career field goal record at 44, moving Ray past UCA Hall of Famer Curtis Burrow, Ray, from Bryant, later in the game became the UCA career leader in PATs as well, finishing with two for the game and 174 for his career, supplanting Eddie Camara (2011-14).

McElvain finished his first season at UCA with 2,592 passing yards and 18 touchdowns after transferring from Northern Iowa. Barnes tallied a team-best 40 receptions for 708 yards and five touchdowns, while James caught 40 for 581 and 3 scores. James also rushed for 649 yards and three more touchdowns.

Defensively, UCA sophomore linebacker Demetrias Charles led the Bears with 12 tackles, including a sack. Sophomore safety TaMuarion Wilson had 10 tackles to finish as the Bears' leading tackler on the year for the second straight year with 104 tackles. Sophomore defensive end David Walker added 3.0 more tackles for loss to his league-leading total and finished with 21.0 for the season, along with a team-high 12.0 sacks.

"There's a time and a place to reflect on the season," said Brown. "If you had told me before the season started that our team could be playing for an outright conference championship on the final week of the season, you'd take it every time. I don't think there is any doubt about that. But we just didn't perform very well tonight. And I told our guys, part of being a football player is dealing with adversity, and they've dealt with a lot of it this year.

"Today, we honored our seniors, and there weren't very many of them. A lot of teams we played, including Jacksonville State, have a lot of seniors, a lot of older guys. So there's a lot to be excited about moving forward with this program and these guys who are coming back. And you know, they've got a conference championship trophy downstairs. And they're going to size for rings at exit meetings.

"So there was a lot accomplished this year, and I'm proud of our seniors, and really everybody that's been a part of this program, because they could have folded a long time ago, but they fought through this and found a way. It's been a blessing to coach these guys this year."