24 Mar 2021

Bears set to host five on 'The Stripes'

The University of Central Arkansas Bears will have a new-look football schedule in 2021, but the significant part of the slate is they will play five home games on "The Stripes" at First Security Field at Estes Stadium.


The Bears are exiting the Southland Conference and moving to the ASUN in July, hence the different look to the 2021 schedule. UCA will play four former SLC members, along with two new ASUN opponents. Couple that with two in-state matchups and three other non-conference games and the Bears will be facing a fresh yet formidable schedule in the fall.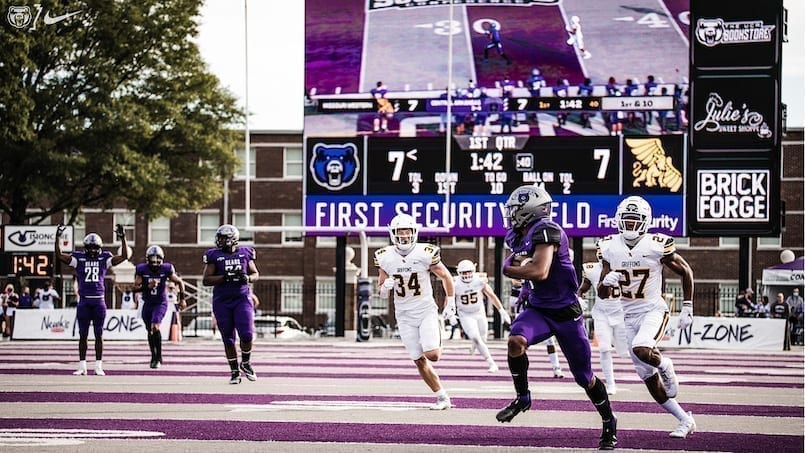 "We are excited about the 2021 schedule," said UCA head coach Nathan Brown, who guided the Bears to a 5-4 record during a 2020 fall season notably shaped by the pandemic. "Once again Dr. (Brad) Teague has done a great job putting together a competitive schedule of home games and away games."
The Bears will continue old SLC rivalries with Sam Houston State, Stephen F. Austin, Abilene Christian and Lamar in a one-year partnership with the Western Athletic Conference, where those four Texas schools are headed in July. 
"We look forward to one last run with the Texas schools who have been in the Southland Conference with us over the years," said Brown. "The ASUN/WAC challenge is going to be a very challenging event that will result in an automatic bid to the NCAA Division 1 playoffs. And we look forward to the new challenge of EKU and Jacksonville State to our schedule."
UCA will host Arkansas-Pine Bluff (Sept. 18), Sam Houston State (Sept. 25), Eastern Kentucky (Oct. 16), Texas Wesleyan (Nov. 6) and Stephen F. Austin (Nov. 13) over a three-month span. UCA will host Family Day/Band Day on Sept. 25, Hall of Fame Weekend on Oct. 16, Homecoming on Nov. 6 and Senior Day/Military Appreciation Day on Nov. 13.
UCA will have Arkansas State (Sept. 4) and Missouri State (Sept. 11) on the schedule for the second consecutive season. The Bears actually played the MSU Bears twice last fall, sweeping the two games. UCA also split a pair of games with EKU last season, with the home team winning each game.
"Maybe the best part of the scheduling is our non-conference slate," Brown said. "We get the opportunity to continue our rivalry with Arkansas State and also take the short trip up to Missouri State in Springfield, Mo. We also look forward to bringing back our rivalry with UAPB. That is three regionally-based games that will have a lot of attention and build up."