26 May 2021

Bears send five to NCAA West Prelims

CONWAY – The Central Arkansas men's and women's track & field teams sent five student-athletes to College Station, Texas, that qualified for the NCAA West Preliminary Championships. The meet began yesterday.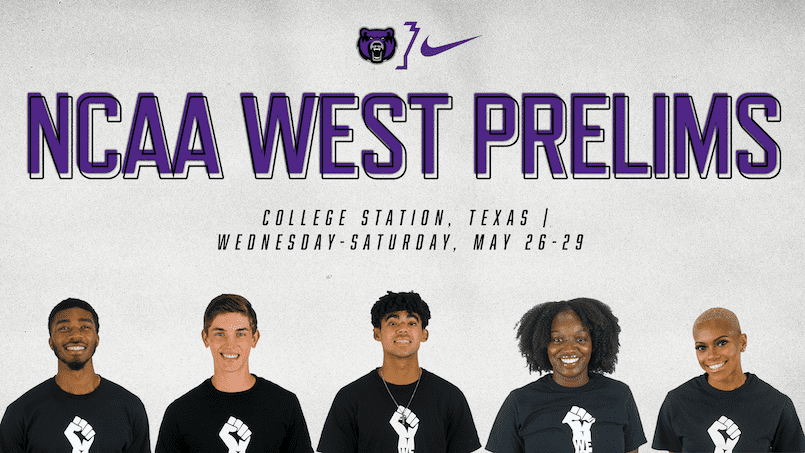 Jordan Atkins qualified for the 110m hurdles. He recorded a UCA record of 14.07 and placed third at the Southland Championships. He currently ranks 47th in the West Region.
Taylor Coleman will compete in the triple jump. In the Southland Championships, she placed 10th with a mark of 11.58m (38-0). Her qualifying leap of 12.79m (41-11.5) is 40th in the region and is a UCA record. She will compete on Saturday at 3:15 p.m.
Ajah Criner will be running in the 100m and the 200m. She ranks 33rd in the 100m with a career-best mark of 11.45 and finished second at the SLC Championships. She was the 200m champion at the SLC meet with a time of 23.63. Her qualifying time of 23.62 is a season best and is 62nd in the region. She will take to the track at 7 p.m. today for the 100m, followed by the 200m at 8:45 p.m.
Zachary Jewell qualified for the 100m and the 200m. He won the 200m at the SLC Championships with a run of 20.72. His 200m qualifying time of 20.57 is 12th in the region. He was the SLC Runner-Up in the 100m with a run of 10.12. His qualifying time of 10.07 in the 100m is fourth in the region and is a UCA record.
TJ Robinson will be running in the 800m. He finished second in the 800m at the SLC Championships with a run of 1:50.92. He qualified for the regional with a mark of 1:49.70, which is 52nd in the West.
The top 24 student-athletes will advance to the quarterfinals on either Friday or Saturday for running events. For the triple jump, the top 12 will advance to the NCAA Championships.Live stats for the West Preliminary can be found here.