28 Oct 2020

Bears-Razorbacks set for historic Dec. 12 clash

by Steve East, Associate AD/Media Relations

The University of Central Arkansas Bears will be part of history this December when they become the first regular-season, in-state basketball opponent for the University of Arkansas Razorback's in 70 years, the schools announced Thursday.

The Bears and Razorbacks will meet at Bud Walton Arena on Dec. 12, headlining a revamped 2020-21 basketball schedule for Coach Anthony Boone's first full season in charge of the UCA program. The last time the Razorbacks played an in-state opponent in the regular season was 1950. UCA and UA last met in basketball way back in 1947.

"It's going to be a great experience for our players and our staff and our fans,' said Boone. "The Razorbacks have always been the apple of the collective Arkansas eye in basketball. It will be a fun time. They have great facilities there, they certainly have great tradition. And just like when we've gone to play other Power 5 programs, it will be a great opportunity to have a good experience for our guys.

"It's a great challenge for them and hopefully it will be a lot of fun.'

The Bears and Razorbacks have met six times previously, beginning in 1924, UCA's fourth season of playing basketball and Arkansas' first season. The Razorbacks have won all six games, including the most recent one on Feb. 1,1947.

"I think we're very fortunate that we're the ones they are going to play, with it being so long since they have had a game with an in-state opponent,' said Boone, who took over last December on an interim basis and assumed the head coaching role full time at the conclusion of the 2019-20 season. "We're really excited to be able to just drive a little ways up the road and to play a game against someone of that high caliber competition.'

The Bears, along with every other program in the nation, had their original schedule turned upside down due to COVID-19 issues. The NCAA pushed back the season start date until Nov. 25, eliminating many of the guarantee games for schools such as UCA. Therefore, adding a game with an established Power 5 opponent, and one less than three hours away, was big for UCA.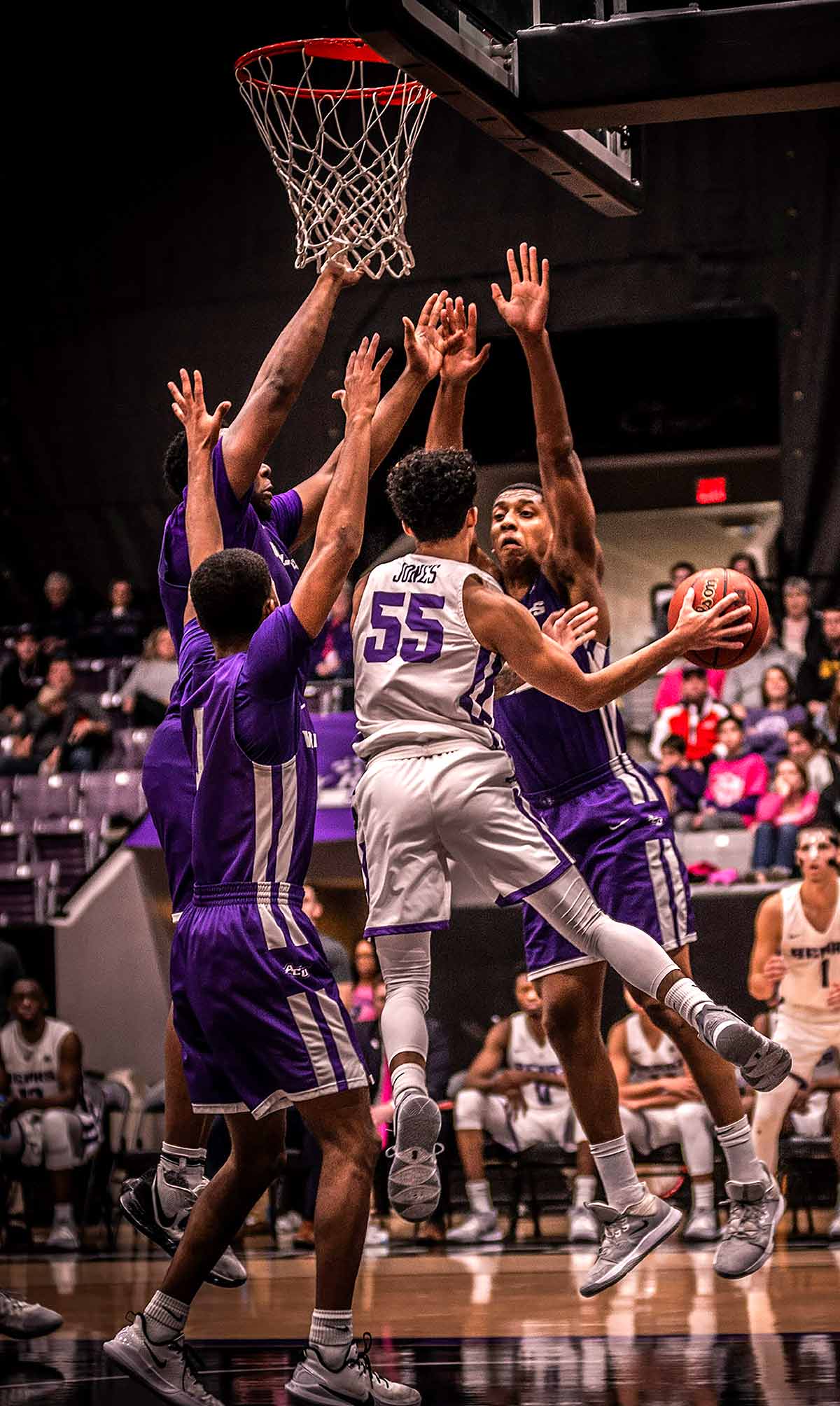 "It was really important, and very fortunate for us,' said Boone. "COVID has affected so many people negatively, and I certainly don't want to downplay that. I've had relatives and friends who have gotten sick and have lost a couple of people from it. But if there is anything at all positive that has come out of it, out of the reshuffling of everyone's schedules, we did get to schedule this game.
"And we're very thankful to have the opportunity to have such a close opponent to replace some of the others that would have required a lot farther travel. '
Boone said he expects a challenge from the Razorbacks, who finished 20-12 overall in Coach Eric Musselman's first season.
"We play games like this every year, Power 5 and highly rated teams, so we don't expect anything different as far as that goes,' said Boone. "But Coach Muss is a great coach and he gets his guys to play really hard, and we're going to have to do the same in order to have a chance to be competitive with them. It's going to be very challenging for us.'
The Bears will open the 2020-21 season on Nov. 25 as part of a multi-team event (MTE) at Ole Miss in Oxford, Miss. The Bears will take on the Rebels on Nov. 25, followed by Arkansas State on Nov. 26 and Jackson State on Nov. 27. That week will see Boone return to the campus of his alma mater where he both played (1994-98) and coached (1998-2000).
"I was really excited that they reached out to us to see if we would be interested in playing,' he said. "It will be great to go back there. They have great facilities there now, very much upgraded from when I played there. I think initially it will be very strange, to be in that building and that atmosphere and not be representing Ole Miss. It will be very strange.
"But once the game starts, I think it will be like any other game. We're going to have to have our guys ready to play hard, to play tough and to be competitive.'
The Bears will open the season by playing three consecutive days, which could be a challenge that early in the season.
"That is the challenge, that it's three straight days,' he said. "Physically that's not that big a deal. We practice that many days in a row all the time. But games are just a little bit different, psychologically and mentally. There is a little bit more focus when it comes to games. That seems to drain our players mentally a little bit more. That will be the challenge there. Yeah, we're going to try to scout in between the games, but there's not much prep to go on the floor beforehand.'
UCA will also get in another in-state matchup when they take on the Red Wolves on Nov. 26.
"I think it's great whenever teams from within the state can play each other,' said Boone. "And I think whichever team wins, it's a win for both programs because we're talking basketball with regard to the state of Arkansas. I think it's a great opportunity whenever Arkansas teams get to compete against each other.'
UCA, which will release more fall semester non-conference games in the coming days, will open Southland Conference play on Jan. 2.
"Our coaching staff worked extremely hard to replace the two weeks of games lost due to the restructured season,' said Dr. Brad Teague, UCA's director of athletics. "Of course, the game most will point to is the game versus Arkansas. It will be special for our fans and our state to have the first men's basketball regular-season, in-state game featuring Arkansas in almost a century.'
UCA-UA SERIES
1924 at Arkansas UA 62, UCA 27
1924 at Arkansas UA 34, UCA 14
1933 at UCA UA 54, UCA 30
1934 at UCA UA 42, UCA 38
1334 at UCA UA 66, UCA 27
1947 at Arkansas UA 59, UCA 39