07 Dec 2022

Bears rally past Red Wolves 72-67

CONWAY — A 45-point second half carried the University of Central Arkansas Bears to a a hard-fought 72-67 victory over the Arkansas State Red Wolves on Tuesday night in front of a loud and rowdy crowd of 2,385 at the Farris Center.


The Bears (5-4) completed the in-state sweep of Little Rock and Arkansas State by shooting a blistering 56 percent from the field in the second half, outscoring the Red Wolves 45-32 and going 13 of 15 at the free-throw line. They trailed by eight at halftime after a poor shooting first half where they made just 3 of 17 from three-point range and shot 33.3 percent overall.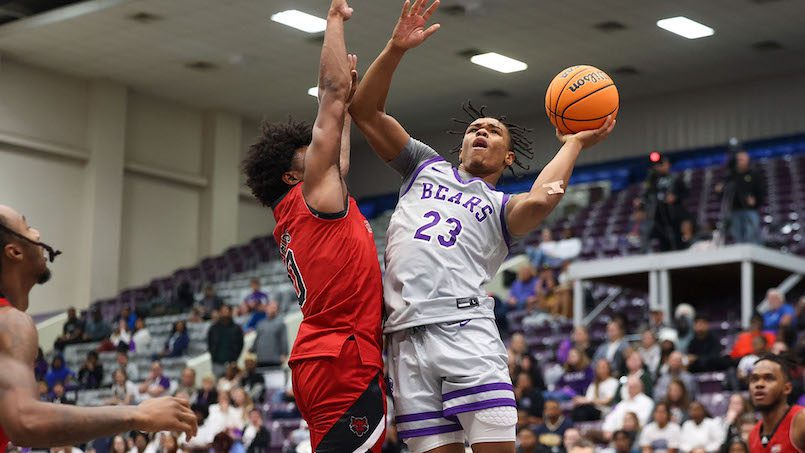 "We ran a little bit faster in the second half," said UCA head coach Anthony Boone. "But there were times (in the first half) in the halfcourt we were trying to hit home runs and trying to get it all back in one or two possessions.

"But we figured out that if we didn't have anything initially, if we just took our time, we would get something easy. And that was the difference, we got a lot of stuff that was easy in the second half. And our field-goal percentage was a lot higher because of that. And making more shots energizes us, and we were able to get more run-outs after that."

A different UCA team came out of halftime and eventually grabbed the lead for good with 4:30 remaining on a layup by senior Eddy Kayouloud. From there, the Bears made 9 of 10 at the free-throw line to seal the victory, their first over the Red Wolves in the last nine meetings. For the game, UCA went 17 of 19 (89.5 percent) at the free-throw line while ASU was 5 of 14 (35.7 percent).

"They certainly gave us an opportunity there," said Boone. "Miss after miss after miss. And our guys stepped up and made them when they needed to. Everyone went in the game and contributed well. Churchill (Bounds) had a huge game, Elias (Cato) stepped up big-time for us. Cam (Hunter) was huge, especially down the stretch.

"Defensively, they were a tough matchup, but down the stretch, we got the stops we needed, we got the rebounds we needed, and we were solid from the line."

The Red Wolves (5-4) led by as much as 11 points in the first half and grabbed a 35-27 lead at the break. But the Bears hit a pair of three-pointers early by Hunter and Collin Cooper to get back in the game quickly. Still, the Red Wolves had a 10-point lead with 15:00 left.

But the Bears outscored the Red Wolves 37-22 the rest of the way to earn the victory. UCA finished with four players in double figures, led by Hunter with 20 points, 7 rebounds and 6 assists. Sophomore Elias Cato had three career highs, including 14 points, 8 rebounds and 3 blocked shots and was a force in the second half. Kayouloud added 12 points and 9 rebounds, while Cooper had three of UCA's seven three-pointers and finished with 13 points.

"Our guys did a great job, they were really focused coming into this game," said Boone. "They stayed together, even when Arkansas State went on a run. Our guys stuck with it and showed a lot of toughness, a lot of endurance, just a lot of courage our guys showed tonight."

ASU was led by Caleb Fields with 16 points, one of four in double figures. The Red Wolves were just 4 of 19 (21.1 percent) from three-point range, going 2 for 11 in the decisive second half.

The Bears, who celebrated the 50th anniversary of the Farris Center on Tuesday night, return to the road on Saturday, taking on Oral Roberts at 7 p.m. at the Mabee Center.