15 Mar 2023

Bears rally for 7-4 win over Red Wolves

JONESBORO — The University of Central Arkansas Bears rallied from a 3-09 deficit on Tuesday by outscoring Arkansas State 7-1 over the final five innings to grab a 7-4 victory over the Red Wolves at Tomlinson-Kell Stadium.


UCA's combination of eight pitchers combined for 14 strikeouts, with sophomore Tate Busey striking out the side in the ninth to seal it. Junior Brady Walker struck out five in two innings and starter Oliver Laufman set down three in his two frames. Mason Griffin pitched one inning and got the victory.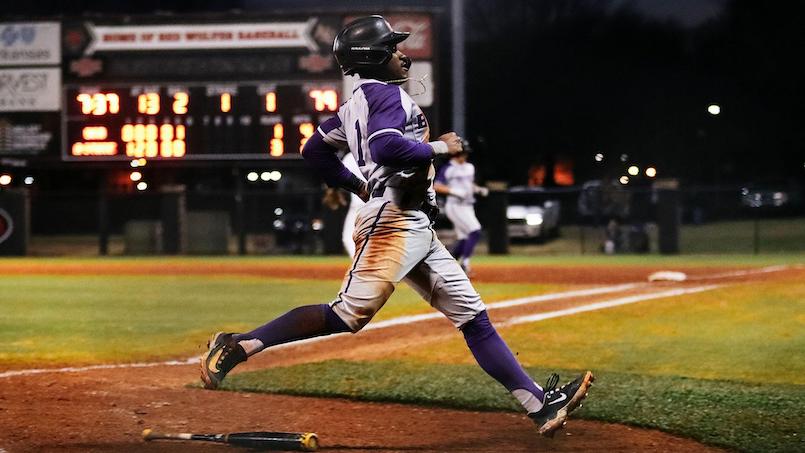 ASU took advantage of two early errors by the Bears to grab a 3-0 lead after two innings. UCA got one of those back with Kade Seldomridge's first career home run,a solo shot to right field in the fourth. UCA got Mason King to third base after the home run but he was thrown out trying to steal home in a close play at the plate to end the inning.
Junior left hander Brady Walker relieved starter Oliver Laufman in the third and struck out five in two solid innings of relief. 

In the sixth, Kolby Johnson had a lead-off walk and moved to second on a deep fly ball by Evan Hafley. A.J. Mendolia then shot a ground ball past the ASU second baseman to score Johnson and close the gap to 3-2.

The Red Wolves answered that run quickly with a solo home run by Brandon Hager in the bottom of the inning, good for a  4-2 lead. Johnson then threw out an ASU runner at the plate for the second out of the inning, his third outfield assist of the season.

In the top of the seventh, Seldomridge had a walk and moved to second on Tanner Leonard's base hit. Seldomridge went to third on Mason King's fly ball and Leonard promptly stole second.  After a strikeout for the second out, Johnson laced a two-run single up the middle to tie it at 4-4. Following a throwing error, Mendolia dropped a base hit into right field to give the Bears their first lead at 6-4. 

The Bears made it a three-run lead with a single run in the eighth. Connor Flagg drew a one-out walk and Kade Seldomridge doubled to left center. Leonard brought in Flagg with a sacrifice fly to right, good for a 7-4 advantage. 

Busey came on for the ninth and got three strikeouts in 14 pitches to earn his second save. 

Mendolia finished 2 for 4 with 3 runs batted in, while Johnson finished 1 for 4 with 2 RBI and 2 runs scored. Seldomridge went 2 for 3 with 1 RBI and scored twice. Mendolia extended his streak of reaching base and now sits at all 16 games of the season.

UCA opens ASUN Conference action this weekend at home at Bear Stadium. UCA and North Alabama will open the series at 6 p.m. Friday.