20 Sep 2023

Bears put up fight in loss to No. 2 Bison

FARGO, N.D. – The University of Central Arkansas Bears battled to the end but gave the No. 2 team in the nation too much in the way of penalties and turnovers Saturday in a 49-31 loss to the powerhouse North Dakota State Bison at the Fargodome.


UCA had two turnovers that both led to NDSU touchdowns and endured nine penalties for 79 yards, including one that brought back a touchdown. The second touchdown of the game for the opportunistic Bison, with 6:51 left in the first quarter, came on a tipped pass that defensive tackle Eli Mosteart picked out of the air and returned 35 yards to the end zone.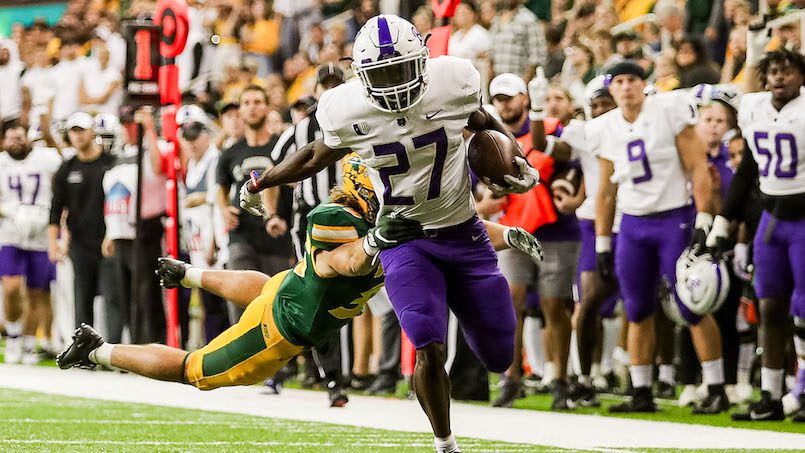 UCA running back ShunDerrick Powell was the most electric player on the field, finishing with 218 rushing yards on just 18 carries (12.1 yards per carry) and a pair of touchdowns, and also caught four passes for 30 yards.

"He's unreal. He's just a great football player, he's a great kid,' said UCA head coach Nathan Brown. "He's explosive. I don't think there's any question when he has the ball in his hands, good things tend to happen, whether that's in the pass game or the run game. Our offensive line did a nice job opening up holes.  

"He's a good player and we're excited he's in our program. And he's going to continue to get better and better, I believe. He's a small guy but he runs extremely hard. Very, very physical for a guy that size."

Powell, a junior transfer from North Alabama and Hoxie, Ark., supplied the majority of UCA's offense in the first half, scoring twice on runs of 43 and 71 yards. He finished the first half with 148 yards on just 10 carries. 

Powell answered a pair of NDSU touchdowns with his first score, capping a three-play, 75-yard drive that lasted just 1:26 that pulled the Bears within 14-7 at the 5:25 mark of the first quarter. 

The Bison got another touchdown on an 11-yard pass from Cam Miller to TK Marshall less than three minutes later, but the Bears drove 58 yards and settled for a 35-yard field goal by Jake Gaster, the first of his UCA career. The teams continued to trade scores the remainder of the half, with NDSU getting a 6-yard pass from Miller to fullback Hunter Brozier, good for a 28-10 lead with 7:07 left in the half.

Powell matched that and then some, breaking off a 71-yard touchdown run, closing the gap to 28-17 with 6:24 on the clock. But the Bison added one final first-half score on a quarterback keeper by Cole Payton to set the halftime margin at 35-17.

"We went in at halftime and we just said just keep chipping away at the score and something good can happen," said Brown. "But we didn't. The first drive of the second half we fumbled a third-down conversion for probably a 25- or 30-yard gain. That was unfortunate and they took it down and scored.  

"But what I did see was our guys fight, scratch and claw and that's what you look for in your program because there's a lot of season left for us.  We've got a chance to be a pretty good United Athletic Conference team. "

The Bison took advantage of that second UCA turnover, a fumble near midfield on its first possession of the second half and drove 49 yards in nine plays to push their lead to 42-17 midway through the third quarter. NDSU scored again on an 8-yard run by TaMerik Williams for a 49-17 lead. From there, UCA got two more scores on a 4-yard touchdown pass from McElvain to Myles Butler, capping a 14-play, 75-yard drive with 6:53 to play, and a 10-yard touchdown run by junior running back Darius Hale.

"That's what it looks like, that's what our program is striving to be, to get to the level of a program like this," said Brown. "And we're not far off. But getting in a game like this, and an atmosphere like this, is good for our players and our program. I'm proud of the way they fought. 

"That's a good football team out there (NDSU), but I do believe in our locker room on the opposite side is a pretty good football team as well."

The Bears finished with 431 yards of offense, with 221 coming on the ground. Butler caught six passes for 88 yards. Powell tallied 347 all-purpose yards, including 99 return yards on kickoffs.

UCA returns home on Saturday to play its first United Athletic Conference (UAC) game against Abilene Christian. Kickoff is set for 6 p.m. at Estes Stadium.