31 Aug 2022

Bears open season tonight on 'The Stripes'

CONWAY — The University of Central Arkansas Bears will open the 2022 season with a familiar foe tonight on "The Stripes."

The Bears will host No. 5/8 Missouri State at 7 p.m. at First Security Field at Estes Stadium. It will be the fourth meeting between the teams in the past three seasons, or 705 days to be exact.

UCA and MSU played twice during the pandemic season of 2020, with the purple Bears winning both games. MSU rallied with two late touchdowns to beat UCA a year ago in Springfield, Mo. In that matchup, the teams combined for 40 points in the fourth quarter, and five touchdowns in the final 3:17. UCA leads the overall series 6-5 and is 3-1 in games played in Conway.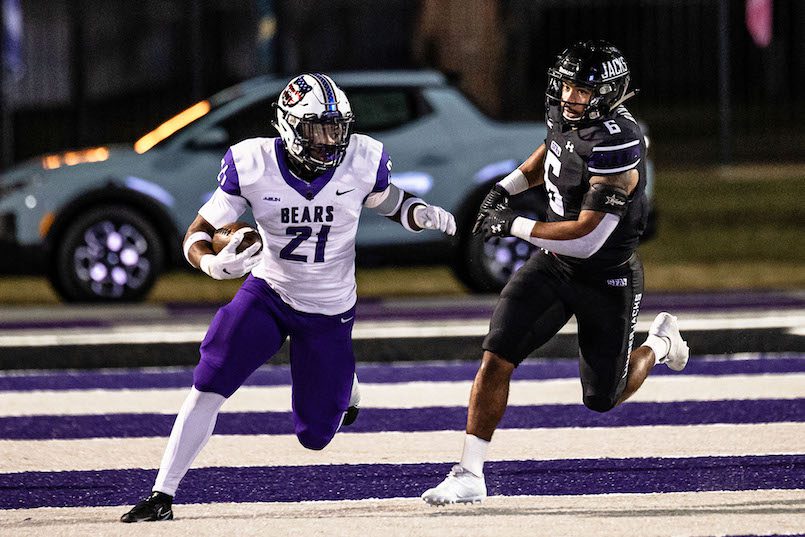 "They're just good, a good solid football team," said UCA head coach Nathan Brown. "They won eight games in the Missouri Valley Conference last year, they've been to the national playoffs the last two years. Obviously we've got a lot of history with them recently. We're 2-1 against them, but in all three of those games it could have gone either way. They were all close games, four-quarter battles.
"It's just a great matchup. To me, it's as good a regional matchup, as far as FCS, as there is. This will be a great opening weekend challenge for us. I'm not sure if we've ever opened the season with a Top 10 opponent. Its' going to be a great night on "The Stripes."
UCA will have a new look offensively this season, playing without record setting former players Breylin Smith at quarterback and wide receivers Tyler Hudson and Lujuan Winningham. Brown said there is a renewed excitement among his fifth squad due to the roster turnover and new look.
Transfer quarterback Will McElvain, from Northern Iowa, will direct the UCA offense. McElvain was a freshman All-America selection in 2019 when he threw for 2,778 yards and 20 touchdowns for the Panthers. He will have a multitude of talented running backs alongside him in the backfield, including a trio of sophomores (Darius Hale, Kylin James, Trysten Smith) who combined to rush for 1,526 yards and 19 touchdowns, along with 24 receptions for 178 yards.
Hale was named the ASUN Freshman of the Year and the runnerup for the Jerry Rice Award after finishing with 1,015 rushing yards and 17 rushing touchdowns, the best touchdown total by a UCA freshman running back since Brent Grimes in 2009. He also had the second-best rushing game in school history with his 253 yards on just 22 carries (11.5 yards per rush) in UCA's win at Lamar.
UCA, which features 40+ newcomers on this year's roster, does have some familiar faces on the defensive side, led by safety junior Cameron Godfrey, sophomore safety Tamuarion Wilson, junior defensive end Logan Jessup, junior linebacker Darin Davenport and senior defensive tackle Caden Brown. Jessup, from Wynne, Ark., led the ASUN in tackles for loss (11.0) and topped UCA's chart in sacks (5.0). Wilson was UCA's leading tackler as a redshirt freshman with 66 stops, including 44 solo tackles.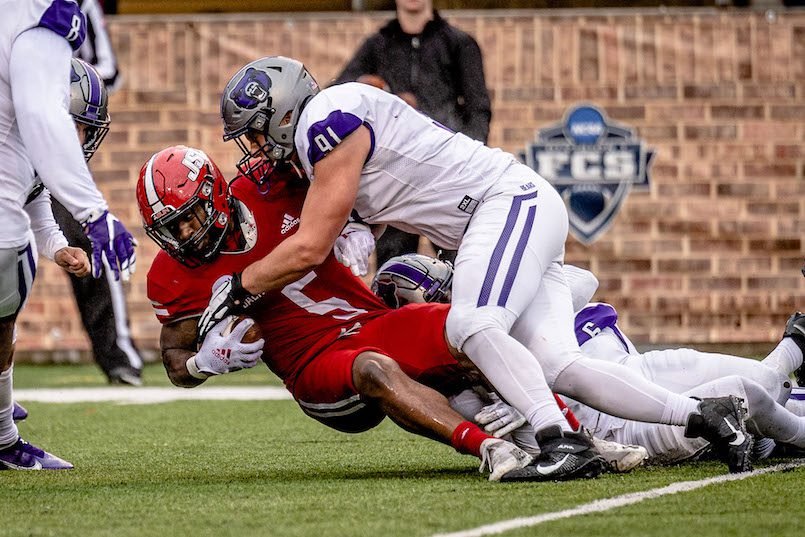 "I think the first thing we talked about after a subpar season was finding a way to turn the roster over in a positive way," said Brown. "And we truly did that. And the theme that I consistently see is, we've hit on a lot of guys that love football. We've hit on a lot of guys who are either getting their first chance or their second opportunity, and they're trying to make the most of it.
"When you can walk across to that practice field and have a smile on your face and enjoy coaching a group of men every single day, that's a true blessing. This has been the most fun camp I've had as the head coach. The testament to that is freshness, it's newness, it's guys that are excited, and fighting and scratching and clawing for their opportunities."
Missouri State, under third-year head coach Bobby Petrino, is ranked Nos. 5/8 in the preseason FCS polls after finishing 8-4 with an FCS Playoff appearance a year ago. The Bears are picked third in the tough Missouri Valley Football Conference (MVFC) behind North Dakota State and South Dakota State, and had eight players named to the preseason All-MVFC team.
"Missouri State returns 17 starters, headlined by Jason Shelley, a preseason first-team All-American," Brown said. "He is the returning Missouri Valley Conference Player of the Year. He was a transfer last year from Utah State. Obviously, Coach Petrino has a track record of developing quarterbacks.
"Shelley is no different. He has dual-threat ability," Brown said. "We have to contain him, keep him in the box, don't let him break the pocket, because that's where he can hurt you. You want to talk about a quarterback matchup, you'll have one Thursday night. It will be fun to watch."
Shelley is one of six preseason All-Americans on the MSU roster, including receiver Ty Scott, cornerback Montrae Braswell, safety Kyriq McDonald, punter Grant Burkett and kicker Jose Pizano. Braswell, a junior from Avon Park, Fla., is on the preseason Buck Buchanan Award Watch List, while Shelley joins UCA's Hale on the preseason Walter Payton Award Watch List.
MSU also features 26 players who have competed at the FBS level at previous schools during their careers.
Gates will open at 5 p.m. Thursday, with tailgating beginning at 4 p.m. The game will be carried live on The Point 94.1, The Bear 91.3 and ESPN+.
The Bears will be on the road for their next three games, at FBS Ole Miss on Sept. 10, at Idaho State on Sept. 17 and at Southeast Missouri on Sept. 24.