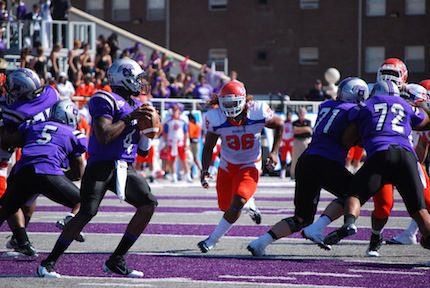 26 Sep 2012

Bears jump in polls, face tough road challenge

by Levi Gilbert


After knocking off the then No. 3 ranked Sam Houston State Bearkats at home last week, the University of Central Arkansas Bears are taking the professional approach, going about their business as if nothing big has happened.

That's because the Bears' next mission — taking on Stephen F. Austin on the road — will arguably be tougher to accomplish than what they did last week.


"It doesn't take long to get [our players'] attention — we're playing a very, very good football team," UCA Coach Clint Conque said. "I'm not worried about them being ready to play on Saturday. My concern is getting them to stay grounded and focused. The preparation we have to do during the week with a team as talented, well coached and explosive as SFA, we've put the last game in the garbage can and moved forward.


"We'll need to have a very similar week of preparation and focus and play just as fast and physical with just as much intensity for us to have a chance this week."


The Bears (3-1) jumped up in both FCS polls Monday after beating Sam Houston State, moving up to No. 14 in the FCS Coaches' Poll and No. 16 in The Sports Network poll, while the Bearkats dropped to No. 9 and 10 in the respective polls. The 24-20 win last Saturday was definitely one to remember for the Bears, who have won three straight since a season-opening loss to Ole Miss.


"It was a nice win for our team and our program," Conque said. "It was a very fast and physical game, just like Division I football is supposed to be played. Big plays were made by both teams. We were just fortunate enough to make some big plays late and pull ahead and hang on for the win. Sam Houston is a great team."


But as impressive as the home win was, following it up on the road against a solid Stephen F. Austin team could prove even more difficult than last week's feat.


"It's a very difficult task to go down to Nacogdoches and play a very explosive football team," Conque said. "They've played a very difficult schedule against two FBS opponents and the No. 2 team in the country in Montana State. I'm sure they feel, and I do too, that with a couple plays they could be 3-1 right now against that schedule.


"Offensively they are very big and explosive. They have a big offensive line. [Brady] Attaway is playing at a high level [at quarterback]. [Cordell] Roberson and all those receivers, they just keep rolling them through there. [Gus] Johnson is a very powerful running back. It's just an enormous task this week for our defense to even contain that explosive of an offense. They're hitting on every cylinder. Defensively they are very athletic, fast and physical. We have to be aware of where [defensive end] Willie Jefferson is at all times."


The Bears will continue to follow the success of junior quarterback Wynrick Smothers. It was Smothers' 26-yard touchdown pass to senior Dominique Croom with 57 seconds left in the game that led the Bears past Sam Houston State, but according to Conque, that wasn't his only big-time pass of the game.


"One of the critical plays in our game last week was when Wynrick was able to avoid the rush, keep his eyes downfield and hit a sideline route that converted a late third down. He does add an additional dimension to [the quarterback] position and I'm really proud of him and how he's been preparing and playing on Saturday nights.


"We started seeing leap and bound improvements [from Smothers] back in the spring and throughout the summer and certainly in camp. He's taken ownership and invested in what we're doing. Quarterback development is critically important to our team's success. Certainly it's the most important position on the field. For us to have a chance to win games, our quarterback has to play well. With that said though, I'm really proud of our offensive line starting with the Ole Miss game and their maturation moving forward. We've still got a lot of work to do there, but the kids are playing hard up front."


UCA and Stephen F. Austin face off at 6 p.m. Saturday.