19 Jan 2022

Bears finally fall at home in tough battle

CONWAY — The University of Central Arkansas Bears finally lost on their home floor Tuesday night, but they did not go down without a fight.


In a game that saw a whopping 24 lead changes and 11 ties, the Jacksonville State Gamecocks squeaked out an 86-81 victory over the Bears in ASUN Conference action on Scottie Pippen Court. The Gamecocks (11-6, 4-0) had six players in double figures and made 12 three-pointers to hold off the Bears (6-12, 3-2), who went toe to toe with the conference leader for 40 minutes.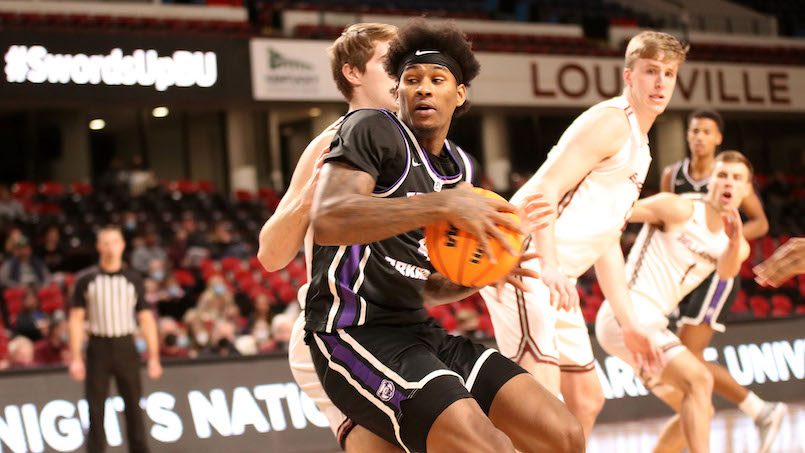 UCA countered with five players in double figures, including 20 from junior Darious Hall, and led for 22:13 of the game. UCA's last lead came on a baseline dunk by graduate forward Jared Chatham with 1:12 to play. But the Gamecocks outscored the Bears 7-0 over the final minute to hand the them their first home loss at the sixth home game.

The five-point final margin tied the largest lead by either team in the hard-fought matchup.

"It was an incredible environment, two teams going at it pretty good," said UCA head coach Anthony Boone. "The pace was great. That was an exciting college basketball game. It's too bad we came out on the short end of it."

The Bears shot 47.3 percent from the field and 34.8 percent from three-point range. The Bears also forced JSU into 20 turnovers and only lost nine themselves. But the Gamecocks won the rebound battle 39-29 and connected on 12 of 25 (48 percent) from beyond the arc, with junior guard Demaree King going 6 of 11.

JSU was 7 of 15 (46.7 percent) from three-point range in the second half while UCA was 6 of 13 (46.2 percent).

"We did most of what we wanted," said Boone. "But overall, the guys gave a great effort. And Jacksonville State is really good. I told the guys they are a team that could win this conference. And we're close, we're really close."

Freshman guard Camren Hunter scored 14 points and had a team-high 6 assists for the Bears, while junior Eddy Kayouloud came off the bench and went 6 of 10 for 12 points. Chatham and freshman Ibbe Klintmanadded 11 points each. Klintman was 3 of 7 from beyond the arc. UCA shot just 3 of 3 at the free-throw line while JSU made 12 of 14.

The Bears, coming off an emotional overtime win over North Alabama on Saturday afternoon, grabbed a 41-39 halftime lead by scoring 30 points in the paint and forcing 11 of JSU's turnovers. Hall had 13 points at the break and Kayouloud had 10. UCA scored 13 points off those first-half turnovers and had 30 for the game.

"We played pretty good defense,' said Boone. "We turned them over a bunch. They shot a good percentage but we turned them over a lot. But we just didn't execute a couple of times down the stretch, and that was the difference in the game."

Boone credited the crowd for helping the Bears keep pace with the Gamecocks, who were picked third in the preseason ASUN poll.

"Thanks so much for coming out," he said. "This was an incredible, incredible environment. We all enjoyed it and I'm glad that it was an exciting game to watch. I hate that we fell short but what an incredible college basketball environment. The fans did a great job tonight."

UCA continues a three-game homestand at approximately 3:15 p.m. on Saturday afternoon, hosting another ASUN power in Liberty University. The game will follow the women's game.