29 Mar 2023

Bears fall to Red Wolves in rematch

CONWAY — The Arkansas State Red Wolves took advantage of 12 walks and put together two five-run innings to down the University of Central Arkansas Bears 10-7 on Tuesday night at Bear Stadium.


The Red Wolves (8-14) evened the season series at 1-1 after UCA won the first meeting 7-4 two weeks ago in Jonesboro.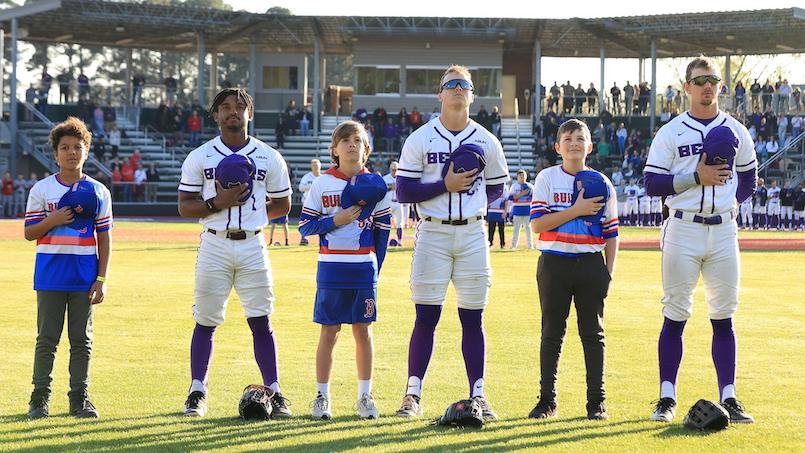 The Bears led 2-0 after four innings after junior center fielder Drew Sturgeon had an RBI groundout in the third inning and senior right fielder Kolby Johnson led off the fourth with his fifth home run of the season. But the Red Wolves put up five runs in the fifth on just two hits, and added five more in the eighth on three hits.

UCA's seven pitchers combined for 12 walks, with Spencer Nelson the only hurler that did not walk a batter in his 1.1 innings or relief. Junior right hander Mason Griffin (2-2) took the loss, going 2.1 innings and allowing two runs while striking out four.

ASU reliever Arlon Butts (2-1) pitched the final 2.1 innings for A-State, allowing three hits and two runs to earn the victory.

UCA picked up two late runs in the ninth when Reid Bowman led off with a base hit and Sturgeon drew a one-out walk. Third baseman Mason King singled to left field to load the bases before Johnson's base hit through the right side brought in Bowman. Evan Hafley followed with an RBI groundout for the second run.

King finished 3 for 5 while Bowman was 2 for 4. Johnson was 2 for 5 with 2 RBI. Flagg had three RBI, including his second career home run.