06 Apr 2022

Bears fall to No. 2 Razorbacks

FAYETTEVILLE — The University of Central Arkansas Bears scored first, but not enough after that to keep pace Tuesday night in a 21-9 loss to No. 2 Arkansas in front of a crowd of 9,614 at Baum-Walker Stadium.


The Bears (11-16) jumped out to a 3-0 lead in the top of the first inning in their first of two meetings with the Razorbacks this season. Kolby Johnson led off with a base hit and scored on a double down the left-field line by Hunter Hicks. A single by designated hitter Drew Pollum and an Arkansas error made it a 2-0 lead. Third baseman A.J. Mendolia followed with an RBI double to left center that scored Pollum for a 3-0 margin.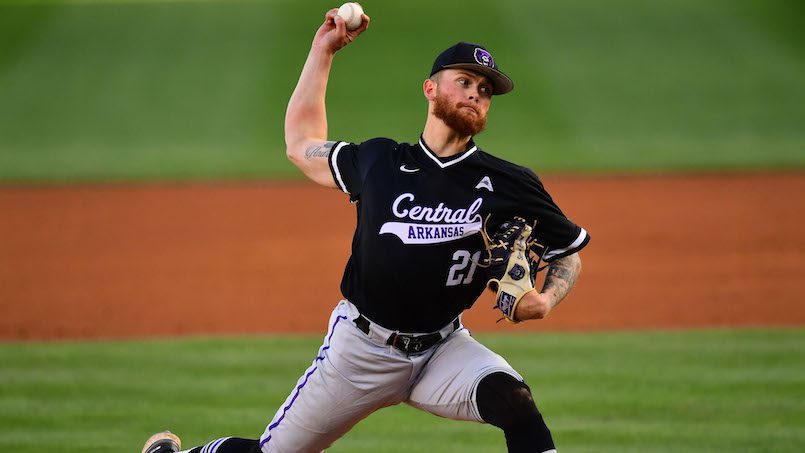 But the Razorbacks (22-5) got one of those runs back in the bottom of the first, the first of 14 runs scored over the first five innings. Arkansas hit three home runs during that span, including a third-inning grand slam by Braydon Webb. UCA added a pair of runs in the third inning when Pollum and Mendolia had consecutive walks and both scored on Drew Sturgeon's base hit.

"I thought we came out and our approach was really good," said UCA head coach Nick Harlan. "We were aggressive early and I thought the quality of our at-bats was very contagious. And that really continued throughout the course of the game.

"Offensively, we put together good at-bats and we fought 'til the finish. So that's something positive that I can take from the game. So, I was really pleased with our offensive approach. And I was really pleased with the fact that when they started scoring runs and separated the game a little bit, we continued to fight. And that's been a characteristic of our team all year."

UCA senior left fielder Connor Emmet hit a solo home run in the seventh inning, his second in two games against the Razorbacks and his team-high fifth of the season. He led off last year's game with a blast on the second pitch of the game. A sacrifice fly by Sturgeon scored Hunter Hicks after the home run to make it an 18-7 deficit. Tanner Leonard then scored Sturgeon with a base hit up the middle.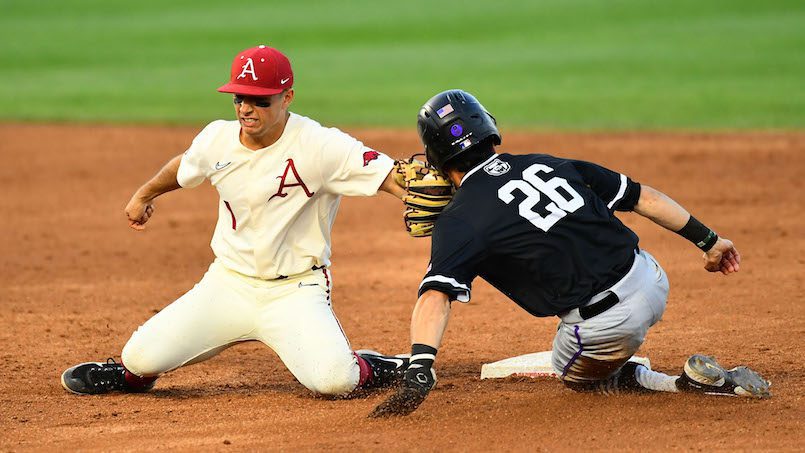 Shortstop R.J. Pearson followed with an RBI single to left center, bringing in Leonard to make it 18-9. The Bears turned in 13 hits, including two each from Pearson, Emmet, Hicks and Pollum, while Sturgeon totaled three RBI.

The Razorbacks, who scored in every inning, finished the evening with seven home runs, with nine different players getting at least one hit. Arkansas catcher Dylan Leach, who entered the game with one hit on the season and an .045 batting average, hit for the cycle, completing it with a home run in the sixth inning, then added a solo shot in the seventh.

The Bears return to ASUN Conference play this weekend, hosting Jacksonville State, which is tied with UCA for second place in the ASUN West Division at 6-3. Game times are 6 p.m. Friday, 4 p.m. Saturday and 1 p.m. Sunday at Bear Stadium.