10 May 2023

Bears fall to No. 15 Patriots

DALLAS, Texas — The 15th-ranked Dallas Baptist Patriots rode a six-run fifth inning to a 12-5 victory over the University of Central Arkansas Bears on Tuesday afternoon at Horner Ballpark.


The Patriots (37-12) fell behind 2-1 before powering their way to their 24th victory of the year on their home field. UCA dropped to 21-26 on the season.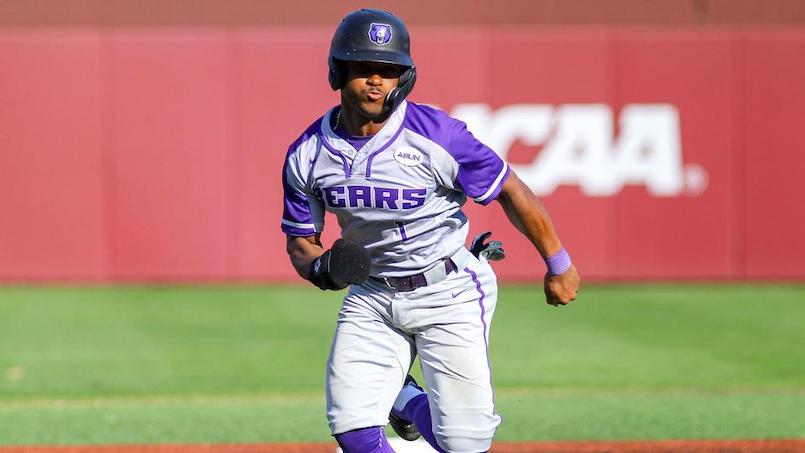 The Bears struck first in the top of the first, plating an early run. Drew Sturgeon led off the game and was hit by a pitch, then moved to second on a wild pitch. Kolby Johnson's single to center staked the Bears to a 1-0 lead. 

UCA made it 2-0 with a similar second inning. Reid Bowman was hit by a pitch, advanced to second on a ground out, and to third on a passed ball. He made it 2-0 on Sturgeon's RBI single to left.  

The Patriots, who entered the game with a 23-4 home record, got one run back in the bottom of the second, then exploded for six in the third, one just two hits and a UCA error.

The Bears, playing their fourth Top 20 team of the season, chipped away with a pair of runs in the fifth inning. UCA once again got a walk to Mason King and a wild pitch that moved him to second. A.J. Mendolia did the honors this time with a single to left field that cut it to 8-3. Sturgeon grounded into what turned out to be a double play but scored Mendolia to make it a four-run game. 

The Patriots added three runs on three hits in the sixth before UCA put up another run in the top of the seventh on an RBI ground out by Mason King that scored Tanner Leonard. Another solo home run for DBU in the bottom of the inning put the lead at 12-5.

The Bears loaded the bases in the ninth inning against three different DBU pitchers but could not score.

Sturgeon and Johnson had two hits each for the Bears.

UCA returns to ASUN Conference action this weekend, taking on the Jacksonville State Gamecocks in Jacksonville, Ala.