04 Jan 2023

Bears fall to Eagles in O.T.

CONWAY — For the second consecutive season, the Florida Gulf Coast Eagles escaped the Farris Center with an overtime victory in ASUN Conference play.


The Eagles (12-3, 2-0) outscored the University of Central Arkansas Bears 9-4 in overtime on Monday night to grab a hard-fought 84-79 victory.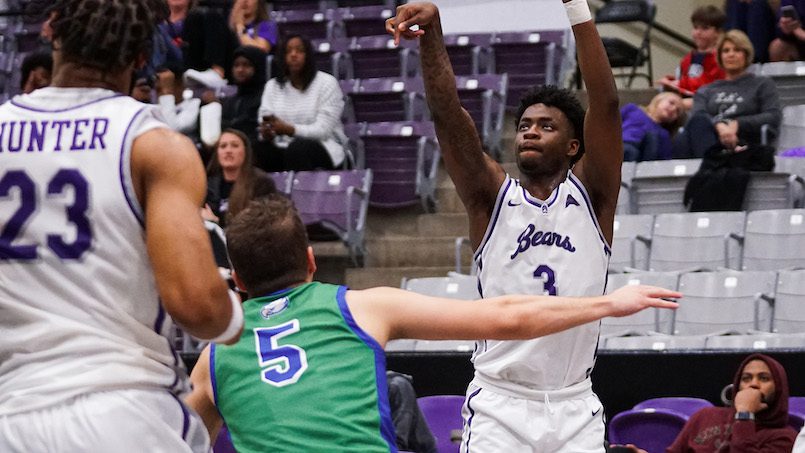 UCA, playing without starter Collin Cooper and key reserve Elias Cato due to injuries, overcame a 12-0 second-half run by the Eagles with a 9-0 spurt of their own and held a 73-71 lead with 52 seconds remaining in regulation. Freshman Johannes Kirsipuu made two free throws for a 75-71 lead but then missed twice. FGCU's Caleb Catto nailed a three-pointer from in front of his own bench and also made the ensuing free throw for the four-point play that forced overtime.

The Eagles, who were just 14 of 23 at the free-throw line for the game, made them when they counted, going 7 of 8 in the extra period to seal the win.

"Our guys played hard," said UCA head coach Anthony Boone, "and this was probably our best effort of any game this season. Just a couple of mistakes here and there that could have sealed the win for us in regulation. And then you have a four-point play.

"We could have picked out a number of plays, but that's basketball. We're going to make mistakes and we've got to grow through those and it's going to be a learning experience."

UCA redshirt freshman V.J. Reeves made the most of his second consecutive start, doubling his career high with 24 points and adding 8 rebounds. Reeves weas 4 of 8 from three-point range as UCA made 9 of 28 (32.1 percent) from beyond the arc. FGCU hit 12 of 33 (36.4 percent) from three-point range.

Freshman Johan Crafoord, playing in just his fourth game since returning from offseason knee surgery, had his best outing 11 points and seven rebounds, going 5 of 8 from the field.

"We had to depend on some guys who aren't accustomed to playing that much," said Boone. "Johan had a great game. He hasn't played much, and he's been battling back from his injury. He finally got a chance to play some extended minutes and played very well.

"And V.J. was in the starting lineup because of Coop and Elias being hurt and he stepped up really big for us. He was really solid for us. He's been showing signs of that in practice and in the last couple of games. It's really good to see that from V.J." 

UCA's lone senior Eddy Kayouloud, who had 34 points and 17 rebounds in last year's FGCU game, was held to 3 points and 3 rebounds and fouled out late in regulation. Masai Olowokere and Ibbe Klintman scored 10 points eaach, with Olowekere pulling down a team-high 9 rebounds. Camren Hunter had 15 points, 5 rebounds and 6 assists.

Andre Weir led the Eagles with 22 points, while Isaiah Thompson added 19, including four three-pointers.

UCA (5-10, 0-2) continues its homestand against Eastern Kentucky on tonight at the Farris Center. Tip-off is set for 7 p.m.